From Consortium News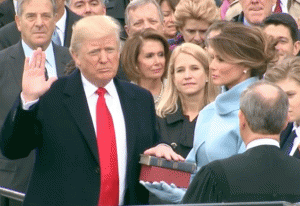 President Donald Trump being sworn in on Jan. 20, 2017.
(
Image
by (Screen shot from Whitehouse.gov))
Details
DMCA
The showdown with the Democratic People's Republic of Korea is a seminal event that can only end in one of two ways: a nuclear exchange or a reconfiguration of the international order.
While complacency is always unwarranted, the first seems increasingly unlikely. As no less a global strategist than Steven Bannon observed about the possibility of a pre-emptive U.S. strike: "There's no military solution. Forget it. Until somebody solves the part of the equation that shows me that 10 million people in Seoul don't die in the first 30 minutes from conventional weapons, I don't know what you're talking about. There's no military solution here. They got us."
This doesn't mean that Donald Trump, Bannon's ex-boss, couldn't still do something rash. After all, this is a man who prides himself on being unpredictable in business negotiations, as historian William R. Polk, who worked for the Kennedy administration during the Cuban Missile Crisis, points out. So maybe Trump thinks it would be a swell idea to go a bit nuts on the DPRK.
But this is one of the good things about having a Deep State, the existence of which has been proved beyond a shadow of a doubt since the intelligence community declared war on Trump last November. While it prevents Trump from reaching a reasonable modus vivendi with Russia, it also means that the President is continually surrounded by generals, spooks, and other professionals who know the difference between real estate and nuclear war.
As ideologically fogbound as they may be, they can presumably be counted on to make sure that Trump does not plunge the world into Armageddon (named, by the way, for a Bronze Age city about 20 miles southeast of Haifa, Israel).
That leaves option number two: reconfiguration. The two people who know best about the subject are Russian President Vladimir Putin and Chinese President Xi Jinping. Both have been chafing for years under a new world order in which one nation gets to serve as judge, jury, and high executioner. This, of course, is the United States.
If the U.S. says that Moscow's activities in the eastern Ukraine are illegitimate, then, as the world's sole remaining "hyperpower," it will see to it that Russia suffers accordingly. If China demands more of a say in Central Asia or the western Pacific, then right-thinking folks the world over will shake their heads sadly and accuse it of undermining international democracy, which is always synonymous with U.S. foreign policy.
There is no one -- no institution -- that Russia or China can appeal to in such circumstances because the U.S. is also in charge of the appellate division. It is the "indispensable nation" in the immortal words of Madeleine Albright, Secretary of State under Bill Clinton, because "we stand tall and we see further than other countries into the future." Given such amazing brilliance, how can any other country possibly object?
Challenging the Rule-Maker
But now that a small and beleaguered state on the Korean peninsula is outmaneuvering the United States and forcing it to back off, the U.S. no longer seems so far-sighted. If North Korea really has checkmated the U.S., as Bannon says, then other states will want to do the same. The American hegemon will be revealed as an overweight 71-year-old man naked except for his bouffant hairdo.
Chief White House Strategist Steve Bannon speaking at the 2017 Conservative Political Action Conference (CPAC) in National Harbor, Maryland.
(
Image
by
Gage Skidmore
)
Details
DMCA
Not that the U.S. hasn't suffered setbacks before. To the contrary, it was forced to accept the Castro regime following the Cuban Missile Crisis in 1962, and it suffered a massive defeat in Vietnam in 1975. But this time is different. Where both East and West were expected to parry and thrust during the Cold War, giving as good as they got, the U.S., as the global hegemon, must now do everything in its power to preserve its aura of invincibility.
Since 1989, this has meant knocking over a string of "bad guys" who had the bad luck to get in its way. First to go was Manuel Noriega, toppled six weeks after the fall of the Berlin Wall in an invasion that cost the lives of as many as 500 Panamanian soldiers and possibly thousands of civilians as well.
Next to go was Mullah Omar of Afghanistan, sent packing in October 2001, followed by Slobodan Milosevic, hauled before an international tribunal in 2002; Saddam Hussein, executed in 2006, and Muammar Gaddafi, killed by a mob in 2011. For a while, the world really did seem like "Gunsmoke," and the U.S. really did seem like Sheriff Matt Dillon.
(Note: You can view every article as one long page if you sign up as an Advocate Member, or higher).