The Cosmic Story: Taurus Full Moon 2018
The Pearl of Great Price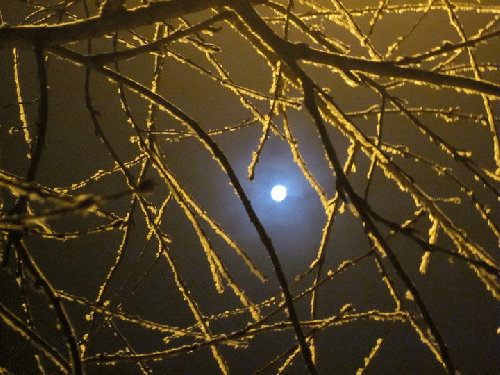 Taurus Full Moon on a Frosty Night
(
Image
by
Cathy Pagano
)
Details
DMCA
This Scorpio/Taurus Full Moon is all about the transformation of the Feminine. Both signs are considered feminine and receptive, and as they align with Venus retrograde at the end of her Wisdom aspect as the Evening Star, we get to evolve our understanding of the divine feminine energies. While Taurus, the Moon and Venus are all related to love, fertility, sexuality and connection -- the essence of life -- they are reflecting the Scorpio death energy. The divine feminine is grounded in the cycle of life -- death -- rebirth and so at this point in the year, we must learn to die to be reborn again.
Venus retrograde has to surrender all her ties as she does down into the underworld. Because she is moving from an Evening Star to a Morning Star, she holds Wisdom, the ancient knowing of combining masculine and feminine, heaven and earth. Yin and Yang. The art of completion. She reconciles opposites and creates harmony. She heals all misunderstandings, can transcend duality and brings about wholeness.
But there's always more to learn. And so she descends into the Underworld, shedding her layers like Inanna sheds her symbols of power as she descends to her sister Erishkegal. And there she dies to be born again.
The new energy she'll bring back with her as she rises as a Morning Star will drive her concerns for true equality and freedom -- for she ends her retrograde in the sign of Libra, the Scales. After the American Senate blatantly ignored a plea to look at white, male entitlement, I doubt women will be content to let things lie. This next phase of Venus' journey will surely see more women working for equality and freedom than ever before.
This Full Moon reminds me of a square dance. Have you even gone square-dancing? (If you haven't, you should try it -- it's fun!) In complicated patterns, 4 sets of partners face each other in a square and dance and change partners as the pattern shifts.
That's what the Grand Fixed Cross between Sun and Venus rx in Scorpio opposite Moon and Uranus Rx in Taurus squaring the Nodes in Aquarius and Leo feels like. With Venus ruling the Moon, the Sun ruling the North Node, Uranus ruling the South Node and the Moon exalted in Taurus, it's hard to know where one energy leaves off and another begins. Oh, and let's not forget the Caller -- Saturn in Capricorn -- who sets up the patterns and calls the changes. Saturn sextiles and trines this Full Moon.
Next Page 1 | 2 | 3 | 4 | 5 | 6 | 7
(Note: You can view every article as one long page if you sign up as an Advocate Member, or higher).