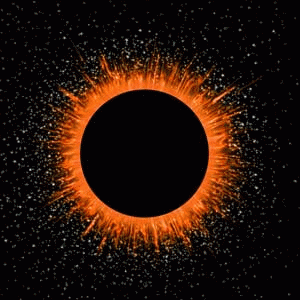 Solar Eclipse Ring of Fire

(

Image

by

Cathy Pagano/Kepler

)

Details DMCA

Eclipses mark times of cosmic redirection and energy shifts. Something that we've been working on, learning about or struggling with comes to an end at a lunar eclipse. Something we've imagined and dreamed about begins to manifest at a solar eclipse. This Taurus solar eclipse on May 9-10th marks a new beginning, an especially fertile new beginning as it takes place in the astrological sign of manifestation. Taurus is the most earthy of earth signs, marking a season of fertility and growth, of beauty and sensuality. It is the energy of building and making, of new possibilities and passions.

Solar eclipses mark the end of a 19-year cycle relating to the activities relevant to each astrological sign. A Taurus solar eclipse brings up issues of self-worth and values. Since this eclipse is near the South Node of the Moon, we might have to examine old value systems that no longer serve our lives. Do you honor the talents you have? Do you know what values stand at the center of your life? Take time to dig deep in the soils of Taurus and weed out any old negative behavior patterns entrenched there. Prepare the soil for new growth.

When we know our own worth, we can also access to the archetypal realm of Beauty, Desire and Fertility which is ruled by Venus/Aphrodite. Know what you value in this precious life we have, because why build something you don't value? Looking back to May 1994, what were you beginning to build into your life? Have you manifested it? If so, what is the next step in the dance of your life? Plant the seed of that new desire during this potent New Moon.





Venus/Aphrodite, the Goddess of Love, Beauty, Wisdom, Sexuality and Wholeness rules Taurus. Just hours before the solar eclipse, Venus leaves her home in Taurus and moves into Gemini, the sign of the Mind. The Sabian symbol for Venus at 1* Gemini is: A glass-bottomed boat reveals undersea wonders. Venus brings to the Mind the beauty and wonder of another realm--the realm of the Collective Unconscious. So pay attention to your dreams now. Since Venus is the great Connector, use this energy to access the imagination of the deep unconscious to help you seed the future you are building. While thoughts are potent, it is the symbol or image lodged in the Unconscious which directs the flow of your psychic energy. Symbols are energy containers and generators. So plant an image and watch it grow.

In his beautiful and relevant book, "The Light of Venus', Adam Gainsburg delineates the 13 phases of the 8-year Venus cycle. While most ancient cultures kept track of the Venus-cycle, very few modern astrologers have bothered to go out and track it through the night sky. Adam did this and let the sky speak to him of our Feminine evolution. At this solar eclipse, Venus is still hidden within the rays of the Sun and she is on the far side of the Sun, the furthest away from Earth (apogee). Traveling at her fastest speed, she will soon emerge from the rays of the Sun to begin the Re-birth phase with her Evening Star appearance. The Transmutation Phase is a time when we can see what's missing from our Feminine Self, a time to go within and re-discover our Inner Light and Beauty. Like Inanna descent into the underworld to meet her sister Ereshkigal, this is a time to let go of who we think we are and allow our Spirit to re-shape us in our original form.

Venus is in her Transmutation phase at this solar eclipse, the mid-point of her 19-month cycle around the Sun. What beliefs about your feminine Self need to die so that a new vision of Feminine Spirit can arise and live through you? As we let go of the patriarchal Venus--woman as the possession of man, feminine consciousness at the service of patriarchy--and take back our feminine powers of perception and knowing, we can let Lady Wisdom speak to us of what we can become. It can be a time of healing, when you realize that your loneliness and isolation was an incubation, a time of preparation. Be willing to "lose your familiar self for the promise of a greater, more encompassing reality' where you can use your feminine gifts to change the world. Transmutation occurs from the inside out. Let the light of your inner feminine Being shine into the world in conscious and conscientious ways. "Transmutation forces us to serve who we are becoming, beyond who we've been: "trans (beyond) mutate (change)'." Become intimate with yourself, so that you can be intimate with others.

This Venus-ruled solar eclipse asks us to look to the future: "personal power results from mastering the illusion of our fear through open-heartedness.' When we open to our original blessings, we discover that the feminine values of Love, Wisdom and Beauty can help us through the darkest times. Stop doing for a while and let your being shine through.

Taurus New Moon Solar Eclipse

The Taurus Solar Eclipse occurs on May 9-10, 2013 at 5:29pm PDT/ 8:29pm EDT/ 12:29am GMT. This annular eclipse (a ring of fire around the Sun) can only be seen in the South Pacific.


The Sabian symbol of the Sun and Moon at 20* Taurus is: Wisps of wing-like clouds streaming across the sky. This symbol implies that when we take a new step in our spiritual evolution, we can look for some kind of manifestation of Divine Power to confirm our progress. When we actually "live' in our true being, we receive blessings unlooked for. We are open to Grace. Remember to be grateful!

What we are actually evolving into is the consciousness that we are all living in the ocean of Spirit. We are coming to the realization that we have to honor our humanity because we recognize our Divinity. Nothing lives outside of this Spiritual energy. That's why it's so important for us to honor the Earth and our own bodies as Temples of Spirit.

We are heading into the energy field of the 3rd Uranus/Pluto square, which occurs on May 20th at 11*14' Aries/Capricorn, a few days before the next lunar eclipse on May 24-25th. The transformation of consciousness is continuing. Watch as patriarchy continues to collapse, mainly because each of us has become conscious of how it no longer serves either our personal or our collective needs.

The Sabian symbol for Uranus at 12* Aries is: A triangularly shaped flight of wild geese. The goose is a mystical bird in many ancient traditions. While on the one hand the goose symbolizes the soul, the triangular formation that geese fly in is an important symbol of cosmic order, for their migration is seasonal and regular. This shape also suggests opening to new possibilities, new directions and new ideas. A new path is opening for us. It is the path less-traveled. And it's time for us to take flight and go on this new journey of self-discovery.

(Note: You can view every article as one long page if you sign up as an Advocate Member, or higher).