The Cosmic Story: Sagittarius New Moon 2015:
True or False: One World Is Enough For All of Us
Satellite View of the Americas on Earth Day
(
Image
by
NASA Goddard Photo and Video
)
Details
DMCA
Have we grown up enough to know that we're all in this life together? That we are indeed One World? Looking at the news, you might doubt it. US presidential candidates want to blame all Muslims for the fanaticism of a few, while ignoring our own fanatical Christians who terrorize women at Planned Parenthood or Jewish fanatics who kill Palestinians and keep them in ghettos. It seems as if everyone has their own version of the TRUTH and many are willing to kill for it.
This urge to stand up for our truth is reflected in the Cosmic Story as Saturn once again transits through Sagittarius, the sign of the Seeker and the Truth-Speaker. Saturn can show us both the worst and the best of who we are. When Saturn transits through a sign, we can be sure we're in for some tests along to the way to see how mature and disciplined we are regarding the field of life experience that sign represents. We have to slow down, which is frustrating, but it also makes us deal with reality. Saturn shows us our limitations, our weaknesses and the rules we live under. If we take the time--Saturn is, after all, Father Time--we can develop the inner strength to take responsibility for our choices and our lives.
Saturn in Sagittarius offers us lessons in maintaining a balance between expanding our vision (Sagittarius) and committing to it (Saturn), in goal-setting and the achievement of those goals so we grow in a deep, mature way. Saturn here tests us to take responsibility for living our personal truths and principles. It's a time to look at those beliefs and principles that no longer reflect our authentic selves and change them if need be.

Saturn Portrait (PIA11667)
(
Image
by
Lights In The Dark
)
Details
DMCA
Saturn's goal in Sagittarius is to experience the fullness of life and discover its meaning, and then to cull the wisdom that is the truest gift of Sagittarius. As we begin this first stage of Saturn's transit through Sagittarius (until 2018), we'll get to see how well we actually live out our beliefs. Our tests will be to keep focused on the goals (depending on where the first 15* of Sagittarius lies in our charts) we set for ourselves--the Centaur's arrows can fly straight and true to the heart of the matter. Saturn's practicality can keep us from loosing ourselves in the big picture (Sagittarius), especially with the ongoing square from Neptune in Pisces. As we act on our idealism (Sagittarius and Pisces) Saturn can keep us on-track by rooting us in our moral principles and forcing us to face the truth about how to live out those ideals. If we find ourselves rigidly holding to certain truths, you can bet Saturn is going to squeeze them out of us by the end of his transit. It's best to practice flexibility to offset Saturn's natural bent towards structure, discipline and rigidity.
The Sagittarius New Moon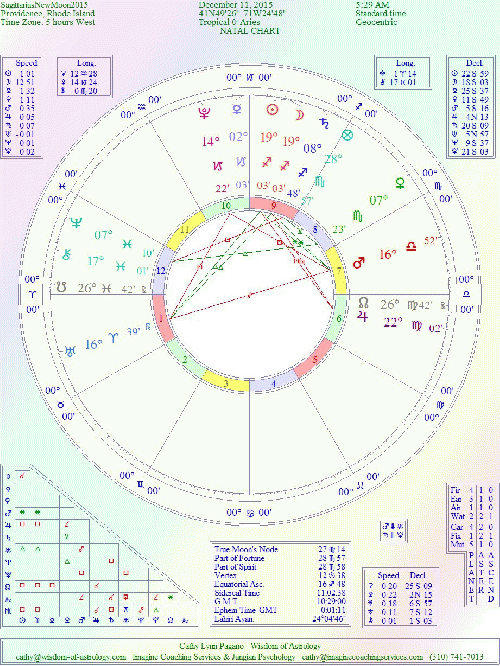 Sagittarius New Moon December 11, 2015
(
Image
by
Cathy Pagano
)
Details
DMCA
When the Sun and the Moon join together at the New Moon, there is a union of conscious awareness (Sun) and unconscious needs (Moon). The New Moon is a time to plant a new seed, a seed of energy that carries an intention. Each New Moon offers us a chance to plant different intentions throughout the year. This Sagittarius New Moon asks us what our intentions are regarding our relationship to Cosmic Law. What moral values do we uphold? What meaning and awareness do we seek? How do our beliefs shape our lives? Are we living our Truth?
Saturn's influence will permeate Sagittarius for the next two years so the lessons we'll all share are about walking our talk, speaking our truths, incarnating our purpose. At this Sagittarius New Moon on December 11 th , Jupiter (the ruling planet of Sagittarius) in Virgo challenges it and us to find our own truth, walk our own path, discover our own destiny. We'll be challenged to choose between what is true and what is false. It's all about our beliefs.
With Chiron in Pisces also squaring this New Moon and opposing Jupiter in Virgo, it's all about healing the Mind of false beliefs. Religious beliefs will be held up for questioning and perhaps we'll finally be able to see that instead of giving power to our deep-seated belief in our 'original sins' we can join the theologian Matthew Fox in looking at our Original Blessings. If we are going to create One World--not the new world order of the Bushes, but a united world comprised of people of good will--we have to hold onto the promise of life rather than the fear of life.
Venus in Scorpio trines Neptune in Pisces, gifting us with an open heart that sees the spiritual reality that encompasses compassion and love for all those people and things our patriarchal culture disregards as irrelevant: the feminine imagination and dreams, financial fairness, gender and racial equality, a healthy environment, the livingness of Mother Earth.
The Uranus in Aries-Pluto in Capricorn energies are still in play as well. This month, Mars in Libra gets a good dose of this revolutionary/evolutionary energy. Fairness and justice vs. war and fear are in the balance. Which will we choose?
The Sabian Symbol for the Sun and the Moon at 20* Sagittarius is: In an old-fashioned northern village men cut the ice of a frozen pond for use during the summer. These men are in touch with nature and know the seasonal cycles. With this knowledge, they can plan for future needs. If we allow ourselves to align with Earth's seasons, we will have the resources we need for the future. Perhaps this bods well for a good outcome at the Paris Climate talks.
The month of Sagittarius is when the northern hemisphere is at its darkest. As we sink to the depths of the Dark, our hope is that we will find the Light shining there in all its splendor.
(Note: You can view every article as one long page if you sign up as an Advocate Member, or higher).