The Cosmic Story: Leo New Moon 2014
Zsuzsanna Budapest, one of the founders of the Women's Spirituality movement in the 70s, says that we are lunar beings. Her proof? Human sexuality is ruled by the Moon instead of the seasons, like other animals. The Moon sets the rhythms of Life for us rather than the seasonal changes of the Sun. And while women are fertile at some point each month, men are ready to go every hour of any day. J Our fertility is ruled by the changing tides of the Moon. Our patriarchal religions tell us that our lunar nature are sinful, and look where that idea's gotten us! Domination, rape and pillage are not the best ways to express gratitude to Life. Our physical nature is the vehicle of our spiritual nature, the temple of our souls--holy and whole.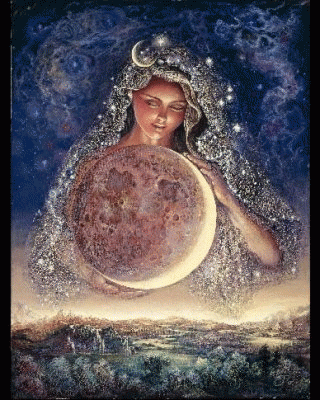 Moon Mother
(
Image
by
Josephine Wall
)
Details
DMCA
Both the Sun and the planet Jupiter have just finished traveling through the Moon-ruled sign of Cancer. We have gone through the past year with Jupiter and this past month with the Sun through the sign of the Mother and the emotional body. On a collective level, Jupiter in Cancer brought up issues about floods, food, homes and security--are those children really a threat to our nation? On a personal level, ask yourself: What have I learned about my emotional needs? What/who is vital to my life? Jupiter in Cancer engenders enthusiasm about how we nurture life.
If we are indeed lunar creatures, our patriarchal society has tried to separate us from our nature. Now that we are breaking down the old patriarchal structures and inner rules, we have to reclaim that lunar nature and value its needs. If we've discovered that love, family and friends are more important than patriarchy's religion of money and work, Jupiter has done his job. Who and what we love nurtures our souls. Good creative work does too! But it is love and the appreciation of others that nurtures our emotional body and makes life worth living.
Just as the Moon's energy creates forms, our lunar nature shapes our fate. But our destiny is shaped by our solar nature, our consciousness. How we live out our fate is our choice, our call. And so we need to balance the Moon and our lunar nature with the Sun and our solar consciousness. We need BOTH to live a fulfilled life, for we are both lunar and solar, feminine and masculine.
Leo New Moon: Saturday, July 26, 2014
The Sun leaves the watery sign of Cancer, the Moon Mother, on July 22 and travels into the fiery sign of Leo, the Sun King, for the next month. The Sun joins with Jupiter on July 24th while Jupiter conjuncts the Moon a few hours before the Leo New Moon on July 26th.

The Leo New Moon occurs on Saturday, July 26, 2014 at 3:42pm PDT/ 6:42pm EDT/ 10:42pm GMT.
With both the Sun and Jupiter in Leo, our energy and enthusiasm will skyrocket this month. Jupiter's big-picture outlook has finished recharging our watery, hidden, lunar nature with faith in Life and now for the next year, it will expand our fiery solar nature and our understanding of what we want to create in our life. More specifically, Jupiter can open up unexplored possibilities inherent in our essential nature and connect us to our creative vision.
The word enthusiasm means we are filled with the god within. Enthusiasm and reverent curiosity, abundance and generosity are Jupiter's gifts to us, most especially in the fixed fire sign of Sun-ruled Leo. These two energies share many of the same attributes, so be prepared to expand your horizons, open your awareness, and connect with the Self--your inner spirit.
The Sabian symbol for the Sun and Jupiter at 2* Leo is: A red viral culture viewed under a microscope. This image calls on our ability to accurately diagnose the underlying causes of actions and beliefs, both personally and culturally. Solar consciousness is our rational left brain consciousness of cause and effect. As the Sun moves around the zodiac this next year, it will carry the charge of its conjunction with Jupiter, helping us to finally understand the sickness of our culture and perhaps even how to cure it.
The Sabian symbol for the Moon and Jupiter at 3* Leo is: A mature woman looks into the mirror and smiles warmly. The woman looks in the mirror of her soul and expresses the love that's there. Lunar consciousness is our imaginal right brain consciousness of synchronicity and magic. Jupiter's enthusiasm brings joy and fun to our feminine side so we can radiate light and warmth to others. With this energy filling the Moon just before New Moon, we can expect Jupiter's enthusiasm to infect us with fun and optimism for the next few weeks.
The Sabian symbol for the Sun and Moon at 4* Leo is: A pointy-eared Man from the future flies through a time tunnel to find himself in a businessman's convention. Aside from the pointy-ears, this image speaks of prophetic insights about our current situation. While we could feel discouraged by what's going on in the world, this image promises that we'll still be around in the future, signifying that we get through these times intact. The pointy ears might indicate Spock comes back to the past to help save us. Or not! J
Jupiter in Leo
(Note: You can view every article as one long page if you sign up as an Advocate Member, or higher).