The Cosmic Story:
Gemini New Moon Solar Eclipse, May 20, 2012

Now is the Time -- Hafiz
Now is the time to know That all that you do is sacred.
Now, why not consider A lasting truce with yourself and God.
Now is the time to understand That all your ideas of right and wrong
Were just a child's training wheels To be laid aside
When you finally live With veracity And love.

My dear, please tell me, Why do you still Throw sticks at your heart And God?
What is it in that sweet voice inside That incites you to fear?
Now is the time for the world to know That every thought and action is sacred.
This is the time For you to compute the impossibility That there is anything But Grace.
Now is the season to know That everything you do Is sacred.
(The Gift - versions of Hafiz by Daniel Ladinsky)
Total Annular Solar Eclipse
May 20th's Gemini New Moon joins with the south lunar node, engendering the first annular eclipse in 18 years -- an eclipse that appears to have a "ring of light' around the Sun. The eclipse starts in southern China, passes through Japan and ends in the western US. In other parts of the world in daylight, the Moon will partially cover the Sun. The eclipse starts on May 20th at 8:56pm UT (Universal Time) and ends on May 21st at 2:49am UT. For more information on the timing for your area, you can go to: http://www.timeanddate.com/eclipse/solar-eclipse-may-2012.html . For the US, that means it starts at 1:56pm PDT/ 4:56pm EDT. And it is total at 4:48pm PDT/ 7:48pm EDT.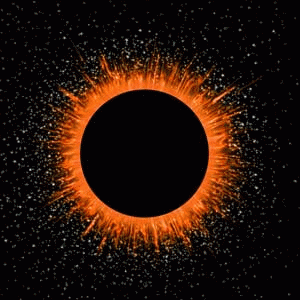 Solar Eclipse Ring of Fire
(
Image
by
Cathy Pagano/Kepler
)
Details
DMCA
So now that the technical information is out of the way, just what does the Gemini solar eclipse have in store for us? A solar eclipse is a special new Moon, when the Sun and Moon and Earth line up on the same plane in space. This line-up disrupts the "usual' energy, dissolving old complexes/behavior patterns and allowing new archetypal energies to emerge from the unconscious (the light of the Sun/consciousness is blocked). The south node of the Moon indicates where our comfort no longer serves us and points to what we have to release. In Gemini, the energy that needs releasing is the way our culture has trained us to think about things. As Hafiz says, " Now is the time to understand that all your ideas of right and wrong were just a child's training wheels, to be laid aside when you finally live with veracity and love." The US President just came out of the closet in support of gay marriage -- a new perspective on partnerships that is sorely needed (Saturn in Libra is helping this along).
With the new Moon on the south node in Gemini, our old perceptions, thought patterns and knowledge can dissipate , leaving us open to perceive, think and know in new ways. These old habits of mind no longer reflect the new realities of life, and so they no longer serve life. Despite any uncomfortable feelings, release these old concepts, and try to see the world with a compassionate heart. " Now is the time for the world to know that every thought and action is sacred. " I think we're all ready for that, don't you?
The sign of Gemini relates to the Mind, highly curious and hungry for knowledge, and how we use the Mind to think, gather knowledge and communicate. The sign of the Twins, one mortal and one immortal, implies that there are many ways to understand life, from common sense to the most complex mathematics. This eclipse can do away with the patriarchal misconception that only factual knowledge is "real'. Be open to your own unique way of learning, see what you discover and when necessary, share it.
Neptune in Pisces (squares) pushes at this eclipse, urging us to listen to our psychic abilities. Neptune can confuse us with deceit and illusion, but it also opens up our imagination to the hidden realities of life. This is a more right-brain, feminine way of knowing than our analytical, verbal, problem-solving patriarchal left-brain mode. Real wisdom comes from an intuitive, feeling understanding of life. This eclipse has the potential to change how we understand our world and each other. So plant a new wish at this new moon eclipse to see the world through different eyes, touch the world with different hands, hear the world with different ears, smell and taste the world in truth so we know what the Earth needs too.

Mars in Virgo opposes Neptune/Chiron in Pisces and squares this eclipse, giving us the determination to follow through on this change. Just remember, don't fall into the Virgo trap of having to be perfect; think rather in terms of being whole. Mars' gift in Virgo is to uncover what the real nature of our desires are, and then to infuse us with the energy to go after them. That's what this Mars retrograde in Virgo was all about. We need to know ourselves, what we desire out of life, and how we want to live our lives. Only then can we create a different future for ourselves and our world.
There is definitely a watery theme to this very airy eclipse. It's fascinating that this eclipse arcs over the Pacific Ocean more than any landmass, accentuating Neptune's sway over the oceans and the collective unconscious. And it's interesting that filmmaker James Cameron descended to the deepest part of the ocean, called Challenger Deep, part of the Mariana Trench in the western Pacific Ocean, in late March for the first time since 1960, when it was explored by U.S. Navy Lt. Don Walsh and the late Swiss explorer Jacques Piccard.

As Marina at Darkstar Astrology mentions, this eclipse occurs on the fixed star Alcyone in the Pleiades. This star cluster, called the Seven Sisters, is an ancient part of our collective psyche, known as a source of wisdom and origins in many mythologies. The Pleiades are associated with the rainy season and fertility, and so we see the watery symbolism again. The Cosmic Story tells us we need to be washed clean of our old perceptions and stuck beliefs. This baptism will renew our energies and allow us a more balanced understanding of life. I had a dream in which I saw the Pleiades shining in the daytime sky -- a sure sign of a cosmic renewal.
We'll need new, refreshing insights as we move into this summer's first Pluto/Uranus square, so the revolutionary energies can flow through us peacefully and artfully. I believe we must join together and use our artistry to enchant people with the possibilities of how we can change the way western society operates, and more importantly, how to use our imaginations rather than fall into our fears.
(Note: You can view every article as one long page if you sign up as an Advocate Member, or higher).