The Cosmic Story: Capricorn Full Moon 2016
Long ago...the world's circle danced. The people danced with the trees, the trees danced with the land. The land danced with the sea, the sea with the moons and the moons with the stars. So went the music and the dance, without beginning, without end.
The Tenth Power, Kate Constable, p. 181.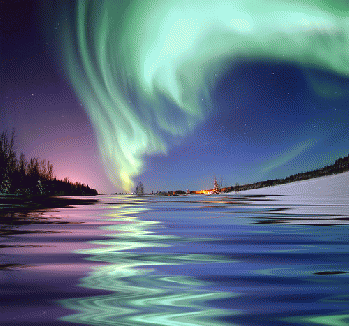 Aurora Borealis, the colored lights seen in the skies around the North Pole, the Northern Lights, from Bear Lake, Alaska
(
Image
by
Beverly & Pack
)
Details
DMCA
The astrological sign of Cancer is 'ruled' by the Moon, meaning that these two energies work in the same way. The Moon pulls the tides of Cancer's waters.
The Moon's cycle includes us in the dance of the cosmos. We live to Her rhythms, our bodies pulse to her ebb and flow. The Moon brings us visions of those past times when people danced with all of nature. And in the union, we are blessed.
But we were exiled from our home within the Moon by patriarchy. And it wasn't Eve and her snake that exiled us--it was the development of our power-driven Ego, the Yahweh (I AM THAT I AM) who demands our singular worship. Our civilization developed from the belief that humans are separate from the Earth and Her other children. And in our unconsciousness, we raped and pillaged not only our Mother, the Earth, but our own psyches/souls. And so we live in a society that is soul-sick.
But we can reclaim our connection to the web of Life when we spiritually connect to the Moon and Her rhythms again. We do this by listening to the silence. If we listen to our instincts and imagination, to the Moon, we will know the wise thing to do. This is Cancer's gift.
The image of the Goddess I believe will lead us to Wisdom is: A Woman clothed with the Sun, standing on the Moon, crowned with Stars, in labor, giving birth to the [New Age].
To stand on the Moon means to take our standpoint from the intuitions and feelings of our emotional body. To listen with our right brain imagination before we do things by using our left brain rationality (clothed with the Sun).
The Woman herself is not a goddess as much as she is the divine feminine within each of us. I do believe that women have a special purpose this lifetime--to leave behind our patriarchal chains and find our own true nature and way of doing things.1 For too long, we have been made to support the masculine way of seeing and doing in the world and forced to leave our own wisdom behind. Now, at this moment of evolution, the way forward is for all of us, but most especially women, to embrace our unique powers and birth a new civilization.
Capricorn Full Moon 2016