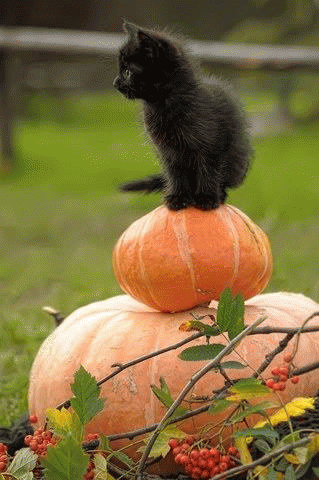 Black Cat on Pumpkin

(

Image

by

Old Moss Woman's Secret Garden

)

Details DMCA

When the Sun travels through Virgo, the sixth sign of the Zodiac, it offers you a chance to acknowledge your newest harvest. Even more important, Virgo's energy helps you integrate your personality. Virgo takes all the energies you've used since the Spring Equinox--during Aries, Taurus, Gemini, Cancer, Leo--and brings what you've created to fruition. That's why Virgo asks you each year, "who are you?'

Whether you've pruned back too far on parts of your life, forgotten to water things or faithfully nurtured your garden, when the Sun moves into the next sign, Libra, we have to deal with the Other--the world in both microcosm and macrocosm. That's why it's important to understand just who you are. Otherwise, how can you create a full and equal partnership with another or the public? Unless you choose the life of a hermit, many forms of partnership await you.

Whether it's with the salesclerk who helps you pick the perfect gift for your wife, your father asking for your help, your lover challenging you to apply for the Masters' program or your friend asking you to go into business together, partnerships depend on each partner showing up. The Scales of Libra are all about balance. If one partner lets go of her choices, she symbolically steps off the scale and the balance is upset.

That's why it's so important to know who you are and what you want! That doesn't mean you can never change your opinion. It does mean that you know what your basic needs, desires and values are. Each year, there will be a different emphasis, a different need that demands more of your attention, but if you know yourself, you can be true to yourself and make the best choices for your life.


How much more important those choices become when we are in partnership! The Scales demand our whole weight--our truth--to balance out. In ancient Egypt, the Scales were sacred to Ma'at, the Goddess of Truth. After death, Egyptians believed that we are judged--by ourselves. The heart of the deceased is placed on the Scale of Ma'at and the balance is a feather. The only thing that will balance that feather is the Truth, the truth of who we are.

So, especially if you're a Sun-sign Libra or you have other Libra planets, please do not "bend over backwards' to make your partnerships work. That doesn't work. It's like jumping over to your partner's side of the scale and expecting the scale to be balanced. What you'll find is that you end up stuck--either stuck on the ground or abandoned in the air.

Be true to yourself! You have to stay on your own side of the scale--you have to have and state your desire so that you and your partner can have different opinions and yet create win-win situations. That's what makes partnerships vibrant and exciting. The Scale is always in movement, striving to create that one perfect moment of balance. So ride the wind with wings outspread: balance yourself and you can create that balance with anyone else.

Venus as the "ruler' of Libra helps us draw our thoughts down into our heart chakras to see if we are being true to ourselves. Libra is an air sign, so it is associated with thinking, socializing, communicating. With Venus in charge, we have to look to our hearts (Venus is the archetypal energy that empowers our heart chakras) to ensure we get the best outcome from our interactions. Right now, Venus is in Scorpio, in a loose alignment with Saturn, the North Node and Mercury in Scorpio, squaring Mars in Leo and trining Jupiter in Cancer.

In English, that translates as: While Venus travels through Scorpio, she looks into our darkest feelings and helps us connect with where we are hurt, lonely and afraid to relate. Traveling through the Underworld, she reclaims those feminine parts of ourselves we keep hidden, afraid that if we show anyone what's there we will be rejected. With Saturn, the North Node and Mercury also in Scorpio, Venus helps us look at these rejected parts and build new emotional structures that allow us to bring them into the light. As we embrace our own darkness, we become whole. We acknowledge the truth of who we are, which will help us see the truth of others.

Venus challenges Mars in Leo to be brave and responsible for our own lives, acknowledging our pain and creating a new story that gives meaning to it. It's time to stop blaming others for our pain--we have the freedom to let go of the hurt and let it heal. Jupiter in Cancer blesses our emotional body, opening us to new beliefs about what makes for emotional security and nurturing, helping us let go of the old pain so we can fill ourselves with what we need now to feel fulfilled. What we used to need might not be what we really need. Venus loves us enough to help us release the old and build on the new.

Libra New Moon, October 4-5, 2013

The Libra New Moon occurs on October 4, 2013 at 5:34pm PDT/ 8:34pm EDT and on October 5th at 12:34am GMT.





The Sabian symbol for the Moon and Sun at 12* Libra is: Miners are surfacing from a deep coal mine. Coal has given us energy for many millennium, even though now its' use is endangering us. In this time of crisis and transition, those of us who have been digging deeply into the mysteries of life, who are working to bring new energy and vision to the world, are surfacing to bring everyone the energy to undergo an evolutionary leap in consciousness. Our knowledge and wisdom can help us take the leap, but it is also dangerous to those who cannot or will not change. Happily, change happens and evolution can't be stopped. They will not win. But they can continue to cause trouble if we don't stand up and tell our new stories. People need a new vision. Who's going to give it to them if not us, just returned from the Underworld of the coal mines? Perhaps the coal we bring back will become the diamond light of immortality?


(Note: You can view every article as one long page if you sign up as an Advocate Member, or higher).