Reprinted from Consortium News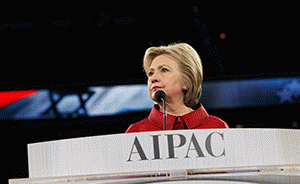 Former Secretary of State Hillary Clinton addressing the AIPAC conference in Washington D.C. on March 21, 2016.
(
Image
by
(Photo credit: AIPAC)
)
Details
DMCA
>
At the annual AIPAC convention, the Democratic and Republican front-runners engaged in what might be called a "pander-off" as Hillary Clinton and Donald Trump tried to outdo the other in declaring their love and devotion to Israel.
Yet, what was perhaps most troubling about the two dueling speeches was the absence of any significant sympathy for the Palestinian people or any substantive criticism of the government of Israeli Prime Minister Benjamin Netanyahu.
By contrast, Sen. Bernie Sanders, who did not attend the AIPAC convention, delivered a foreign policy speech in Salt Lake City, Utah, that struck a more balanced tone and placed part of the blame for the Mideast problems on the policies of Netanyahu's right-wing government.
However, in Washington before thousands of cheering attendees at the American Israel Public Affairs Committee convention on Monday, Clinton, Trump and two other Republican candidates, Texas Sen. Ted Cruz and Ohio Gov. John Kasich, were in full pander mode.
For instance, former Secretary of State Clinton depicted Israel as entirely an innocent victim in the Mideast conflicts. "As we gather here, three evolving threats -- Iran's continued aggression, a rising tide of extremism across a wide arc of instability, and the growing effort to de-legitimize Israel on the world stage -- are converging to make the U.S.-Israel alliance more indispensable than ever," she declared.
"The United States and Israel must be closer than ever, stronger than ever and more determined than ever to prevail against our common adversaries and to advance our shared values. ... This is especially true at a time when Israel faces brutal terrorist stabbings, shootings and vehicle attacks at home. Parents worry about letting their children walk down the street. Families live in fear."
Yet, Clinton made no reference to Palestinian parents who worry about their children walking down the street or playing on a beach and facing the possibility of sudden death from an Israeli drone or warplane. Instead, she scolded Palestinian adults. "Palestinian leaders need to stop inciting violence, stop celebrating terrorists as martyrs and stop paying rewards to their families," she said.
Then, Clinton promised to put her future administration at the service of the Israeli government, asking: "The first choice is this: are we prepared to take the U.S./Israel alliance to the next level?"
Clinton said, "One of the first things I'll do in office is invite the Israeli prime minister to visit the White House. And I will send a delegation from the Pentagon and the Joint Chiefs to Israel for early consultations. Let's also expand our collaboration beyond security."
Clinton lashed out at the global boycott, divestment and sanctions (BDS) movement which has sought to convince Israel to respect the human and political rights of Palestinians by applying economic and moral pressure on Israeli businesses. Yet, instead of a non-violent movement to achieve change in the Israeli-Palestinian dynamic, Clinton saw anti-Semitism.
"Particularly at a time when anti-Semitism is on the rise across the world, especially in Europe, we must repudiate all efforts to malign, isolate and undermine Israel and the Jewish people," she said, adding: "we have to be united in fighting back against BDS."
Clinton also indirectly criticized Trump for having said earlier in the campaign that the United States should be "neutral" in its handling of peace talks between Israelis and Palestinians.
"Yes, we need steady hands, not a president who says he's neutral on Monday, pro-Israel on Tuesday, and who knows what on Wednesday, because everything's negotiable," Clinton declared.
Trump's No-Pander Pander
Speaking after Clinton's appearance, Trump asserted that "I didn't come here tonight to pander to you about Israel. That's what politicians do: all talk, no action. Believe me."
(Note: You can view every article as one long page if you sign up as an Advocate Member, or higher).