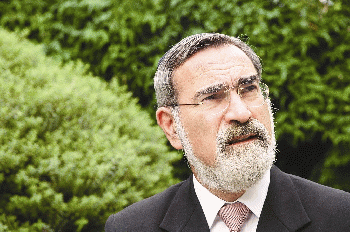 Chief Rabbi Jonathan Sacks
(
Image
by
On Being from flickr
)
Details
DMCA
Duluth, Minnesota (OpEdNews) October 29, 2020: My favorite scholar is the American Jesuit Renaissance specialist and cultural historian Walter J. Ong (1912-2003; Ph.D. in English, Harvard University, 1955). Ong's favorite sparring partner is Plato.
Aquinas also frequently critiques Plato and Platonists. For an accessible sample of Aquinas' thought, see Matthew Fox's creatively constructed book Sheer Joy: [Four] Conversations with Thomas Aquinas on Creation Spirituality (Ixia Press/Dover Publications, 2020; orig. ed., 1992; see the index for specific page references to Plato).
For an astute account of Plato's thought, see the classicist Eric A. Havelock's 1963 book Preface to Plato (Belknap Press/Harvard University Press) - a work that Ong never tired of referring to.
Now, Rabbi Jonathan Sacks' 2003 revised Chapter 3: "The Dignity of Difference: Exorcizing Plato's Ghost" in his book The Dignity of Difference: How to Avoid the Clash of Civilizations (Bloomsbury, pages 45-66) is an admirably lucid critique of Plato and of what Rabbi Sacks refers to as Plato's ghost in Western cultural history down to the present time.
I discuss the clash of civilizations in my article "The West versus the Rest: Getting Our Cultural Bearings from Walter J. Ong" in Explorations in Media Ecology, volume 7, number 4 (2008): pages 271-281. I regret that I was not familiar with Rabbi Sacks' 2003 revised edition of his book about how to avoid the clash of civilizations when I wrote my 2008 article, because I certainly would have discussed it. But I just recently learned of his 2003 revised edition of his book.
Now, Rabbi Sacks is familiar with Ong's 1982 book Orality and Literacy: The Technologizing of the Word (Methuen) and with Ong's 1967 book The Presence of the Word: Some Prolegomena for Cultural and Religious History (Yale University Press), the expanded version of Ong's 1964 Terry Lectures at Yale University.
In any event, if Rabbi Sacks is interested in expanding his range of allies who are critical of what he refers to as Plato's ghost, he could consider Ong and Aquinas as possible allies.
Now, as odd as it may seem, Yale's garrulous literary critic Harold Bloom (1930-2019), at least in passing, makes a point that is compatible with Rabbi Sacks' indictment of Plato's ghost, even though Bloom does not settle on Plato alone as the overall representative of the problem. But Bloom in his own way at least recognizes the problem that Rabbi Sacks is pointing out in his own way.
In Bloom's 1989 book Ruin the Sacred Truths: Poetry and Belief from the Bible to the Present (Harvard University Press), he says, "Frequently we forget one reason why the Hebrew Bible is so difficult for us: our only way of thinking comes to us from the ancient Greeks, and not from the Hebrews" (page 28). If this is the case, as I think it is for most college-educated Americans today, then it is "our only way of thinking" that Rabbi Sacks is referring to when he speaking vividly of exorcizing Plato's ghost.
In Bloom's surprise bestselling 2005 book Jesus and Yahweh: The Names Divine (Riverhead Books/Penguin Group), Bloom says, "Whoever you are, you identify necessarily the origin of your self more with Augustine, Descartes, and John Locke, or indeed with Montaigne and Shakespeare, than you do with Yahweh and Jesus. That is only another way of saying Socrates and Plato, rather than Jesus, have formed you, however ignorant you may be of Plato" (page 146).
Whatever else may be said about Bloom, it is not remotely likely that he ever read or even ever heard of Rabbi Sacks' 2003 revised edition of his book The Dignity of Difference: How to Avoid the Clash of Civilizations - and his eloquent call for exorcizing Plato's ghost from those realms of our thought where it does not belong (according to him).
Now, in Rabbi Sacks' revised Chapter 3, he says, "The world we see, in which we move and live, he [Plato] argued in The Republic in the famous parable of the cave, is a mere play of shadows. The true essence of things is not matter but form, ideas, not their concrete embodiment is the world of the senses. That is where trees become Treeness, where men become Man and apparent truths coalesce into Truth" (page 49).
But let's be clear here. Rabbi Sacks is critiquing Plato's overly extrapolating from abstractions of forms to postulating a supposed realm of Ideas (represented here by Rabbi Sacks by the capitalization of the abstractions he mentions).
However, Rabbi Sacks is also setting up here his preferred contrast of particulars and particularity with abstractions and universalism. He says, "Particularity - the world of the senses and the passions - is the source of conflict, prejudice, error, and war. Universality is the realm of truth, harmony, and peace" (page 49).
(Note: You can view every article as one long page if you sign up as an Advocate Member, or higher).