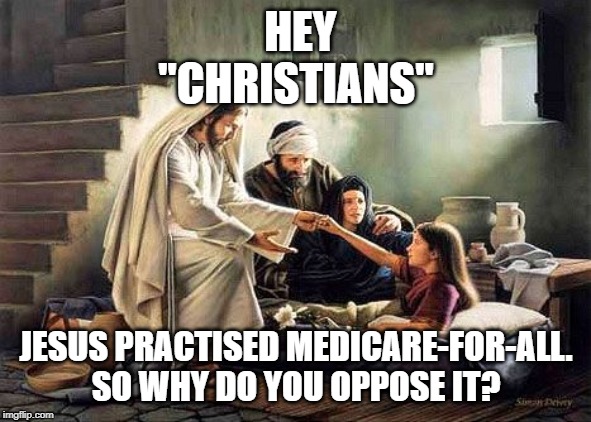 (

Image

by

imgflip.com

)

Details DMCA

Readings for the 28th Sunday in Ordinary Time: 2 KGS 5: 14-17; PS 98: 1-4; 2 TM 2: 8-13; 1 THES 5:18; LK 17: 11-19

On October 4th, President Trump signed a proclamation denying visas to immigrants who can't afford to purchase health insurance within 30 days of their arrival to the United States. The new restrictions are scheduled to be implemented on November 3. They will also exclude immigrants from subsidies under the Affordable Care Act.

In its proclamation, the White House said it was taking this step to safeguard the health-care system for American citizens by preventing immigrants from enrolling in Medicaid or going to emergency rooms with no insurance, requiring hospitals or taxpayers to cover the cost.

"President Trump has taken action to promote immigrant self-sufficiency, which has long been a fundamental aspect of our immigration system," the proclamation said.

In other words, (and listen for the irony here) the uber-rich president's action is directed against poor people and is designed to save money for a revenue base recently depleted by tax breaks principally benefitting the richest people in the most affluent country in the world.

It's simply another onslaught in Trump's war of rich against poor.

Today's liturgy of the word shows that the new proclamation is not only ironic, it also stands in sharp contradiction to the Judeo-Christian tradition and its emphasis on gratuitous healing.

I mean, this week's readings seem providentially related to the issue of healthcare not only for resident aliens, but for explicit enemies of the state. The selections have two prophets (Elisha in the case of the Jewish Testament) and Jesus (in its Christian extension) curing foreign lepers. In Elisha's case, the beneficiary of his cure is a general in an enemy army (Assyria) actually at war with Israel. That would be like Americans extending care to a notorious terrorist.

Additionally, the readings connect with current debate about Medicare for All by suggesting the inappropriateness of charging money for healing which is understood as a gift from God. As such, the readings intimate, it should be available to all humans with no distinctions about race, class, or gender.

Please read the texts in question here. What follows is my own "translation" of their unusually coherent message about foreigners and healthcare.

2 KGS 5: 14-17

During Assyria's war on Israel,
Naaman, an enemy general,
Was cured of leprosy
By Israel's prophet, Elisha.
The general offered
A valuable gift
In exchange.
But Elisha refused
To profit from
God's healing.
Such salvation
Is as free as earth itself,
He implied.
It is entirely fungible
To entirely
Fungible people.

PS 98: 1-4

So, let's sing
Of God's healing (salvation).
On behalf of Israel
It manifests
God's favor to non-Jews too
Causing the whole earth
To break out in song.

2 TM 2: 8-13



(Note: You can view every article as one long page if you sign up as an Advocate Member, or higher).