By Dave Lindorff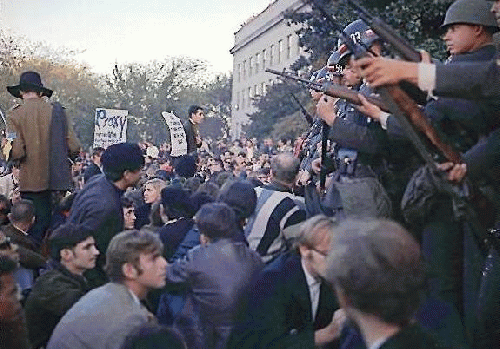 Antiwar protesters at the Pentagon in 1967
(
Image
by
ThisCantBeHappening!
)
Details
DMCA
I'm fed up with the trashing of the Baby Boom generation.
Sure you can find plenty of scoundrels, freeloaders, charlatans and thugs who were born between 1946 and 1964, but you can find bad and lazy people in every generation. In fact, the so called "Greatest Generation" who preceded the Boomers abounds in them. That doesn't prove anything.
What has me ticked, as someone who was born in 1949, is that the right wing has for decades been attacking my generation in particular, and has succeeded, pretty much, in portraying us Baby Boomers as self-centered, spoiled and entitled. The right has then cleverly used that deceptive image to go on and attack important programs like Social Security, Medicare, college loans, etc., by trying to divide the generations against each other, claiming that we Baby Boomers are intent on abusing, even bankrupting, those programs.
The truth is something else entirely.
The generation born after World War II in fact has been admirable and almost unique in its altruism. While our parents were either overt racists and sexists or turned a blind eye to those twin evils, and for the most part uncritically accepted the imperialist policies of the post-war US government, our generation challenged the idea of imperial war, supported the struggle of African-Americans to win voting rights and to end legal segregation and, after a struggle in our own ranks, fought for equal rights for women -- with many of the men of our age cohort joining in that struggle.
My generation did more in our personal lives and lifestyles, beginning in the 1960s and continuing on through the decades, to break down walls of religious and racial bigotry, than any before us, and we have raised children who have continued that legacy.
As for Social Security, it was our generation that has had to pay more into the system to anticipate our greater longevity and our greater numbers, paying vastly higher Social Security payroll taxes than our parents ever did. We also strongly supported the creation of Medicare in 1965, at a time when we were still more than 40 years from being able to make use of it. We did it for the generation before us, not for ourselves. Back in 1964, when the last Boomer was being born, our parents were only paying 3.625% of their pay in FICA taxes...
For the rest of this article by DAVE LINDORFF in ThisCantBeHappening!, the new independent Project Censored Award-winning online alternative newspaper, please go to: www.thiscantbehappening.net/node/1594