The smell of burning books hangs heavy over the city of Raqqa, Syria. On March 4, 2013 the rebel fighters occupied the city of Raqaa, which is in the far North East province of Syria, and took the governor hostage. Thousands of innocent civilians are now under the occupation of armed fighters.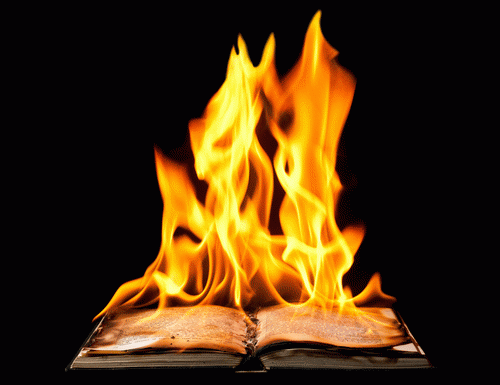 burning books

(

Image

by

Digital Book World

)

Details DMCA


burning books by Digital Book World
US Secretary of State, John Kerry, calls these rebels "freedom fighters'. But they are far from that description. Freedom fighters would not make the public burning of books one of their first acts as liberators in Syria. The mere inclusion of the word freedom in their description would preclude the burning of books.

These rebels are the Free Syrian Army, Jibhat al Nusra and Al Qaeda. These three armed Islamic terrorist groups are united as the armed wing of the Syrian National Coalition, headed by Moaz al Khatib, who is a Muslim Brotherhood cleric. The United Nations and the Arab League have both reported for almost 2 years, that Al Qaeda is fighting on the ground in Syria.

There is a world of difference between armed Islamic terrorists, who are fighting against the Syrian people, in a war to occupy Syria with their own fascist ideology, and freedom fighters. Their ideology calls for Sunni Islam exclusively, and all other sects to be eliminated through sectarian cleansing. They are burning books in Reqaa now. Later they may be in Damascus, one of the oldest continuously inhabited cities on earth. While Europe was in the dark ages and worshiping fire, Damascus was building Christian churches. There are over 9 million Christians in Syria. The Free Syrian Army does not have even one Christian fighter. Free Syrian Army, Jibhat al Nusra and Al Qaeda are strictly, and exclusively Sunni Muslim.

http://warisacrime.org/content/syria-news-mar-6 Video showing the burning of books in Reqaa, Syria.

Book burning is not new to ideology driven groups. One of the most famous book burnings was done by the Nazi party, under the leadership of Adolf Hitler, on May 10, 1933. The Nazi party was a fascist political group. Their ideology insisted that there were "good' people, worthy of life and rights, and "other' people who deserved to be taken from their homes, imprisoned in camps and ultimately slaughtered to death.

http://www.historyplace.com/worldwar2/timeline/bookburn.htm

These fascist groups burn books because freedom of thought and religious expression are a threat to their power. The Free Syrian Army, Jibhat al Nusra and Al Qaeda in Reqqa are cleansing the population from "un-Sunni" thoughts. This is mass censorship.

More than 100 years before the Nazi German book burning, a German author predicted it. He was Heinrich Heine, and in 1821 he stated: "That was the beginning. After burning books, they will burn human beings."


Western nations which purport to honor freedom and democracy, must admit that they are supporting fascists hiding behind Islam. We already saw what has happened to the governments of Libya, Tunisia and Egypt. We see on the news the constant and unrelenting streets protests in all three countries, since they have been over-thrown and Islamic regimes instated. The people are not free, and the regimes are not democratic. We must all learn the lessons of the recent history of the Arab revolutions. We need to ask if all change is good, or can some changes be a detriment to freedom and democracy. When Adolf Hitler and the Nazi party took control in Germany, that was a big change, but it was not a positive change. We must not continue to sit idle and watch people die in Syria, such as Western people did, while the Germans gassed millions of people. Take action now. Contact your elected representative and voice your concern about Syria. In your own words, ask them to take action to break ties with armed terrorist groups, and demand peaceful negotiations between the Syrian opposition and the Syrian government. You can be part of the solution to the crisis in Syria.