Ten Year Old Ghina and 8 Year Old Nagham, Survived Three Sniper Bullets in Syria.
(
Image
by
Franklin Lamb
)
Details
DMCA
Damascus, Syria September 5, 2016
Ten Year Old Ghina and 8 Year Old Nagham continue to do well after their recue from the rebel surrounded village of Madaya, Syria. Ghina's shattered and infected leg from a sniper's exploid-on-impact bullet continues to heal and she had an uninterrupted night. Her mother Sahar, who stays at her daughters' hospital bedsides nearly night and day 24/7 says that the girls slept soundly; apparently no horrible nightmares which they have frequently.
Below is a picture of some of the fruits that "Meals For Syrian Children" provides for children. Syria is blessed with some of the finest fruits and vegetables in the world. The people have been "making the desert bloom" for thousands of years.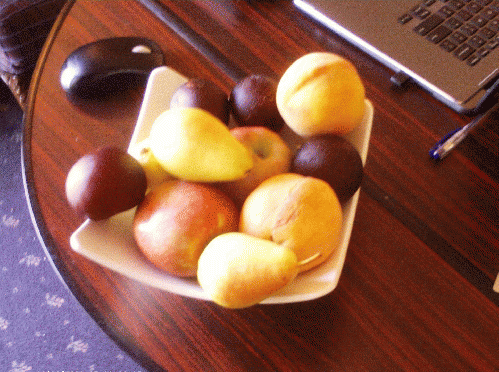 Feeding hundres of Syrian Refugee Children
(
Image
by
Franklin Lamb
)
Details
DMCA
I had some of this beautiful fruit delivered to Ghina and Nagham to help their malnourished bodies recover from over 18 months trapped in the village of Madaya, and barely surviving on a starvation diet of grass and wild flower soup.
We are still waiting for the wheels of the bureaucrats and multiple layers of "security forces" to grant safe passage for Sahar's two younger children, Manal and Mohamed-Kamal, who are still trapped in the hell of Madaya.
We had bad news that the conjoined twins, Nawar and Moaz, that we were trying to rescue have died. I blame the bureaucrats, multiple layers of so-called "security forces" (65 different armed groups at last count) for the deaths of the twins.
More news to follow soon.
The vision of Meals for Syrian Refugee Children: Lebanon (MSRCL) is to assure that every refugee child from Syria in Lebanon (Syrian, Palestinian, Moslem, Christian,Yazidi, Kurd or other) has access to a hearty nutritional mid-day meal, everyday of the week, from a meals distribution centre at Ramlet el-Baida beach in Beirut. 95% of donations goes to the cost per meal of $2.25. We can be contacted at http://mealsforsyrianrefugeechildrenlebanon.com/
Feeding hundres of Syrian Refugee Children
(
Image
by
Franklin Lamb
)
Details
DMCA