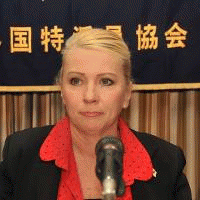 Catherine Fisher
(
Image
by
Japan Times
)
Details
DMCA
In a landmark case, Milwaukee, Wisconsin County Circuit Court Judge Michael D. Guolee entered a judgment in favor of Catherine Jane Fisher, an Australian citizen, recognizing and enforcing a Japanese civil judgment for rape that Ms. Fisher obtained against Bloke Deans, a former U.S. Navy service member now living in Milwaukee, Wisconsin.

The judgment is the culmination of a 12-year quest for justice by Ms. Fisher, and came only after an extended court battle during which Mr. Deans attempted on two occasions to dismiss the claim by arguing that Ms. Fisher did not have standing to bring her claim and that Mr. Deans had been denied due process during the Japanese proceedings. After the Milwaukee court rejected Mr. Deans' arguments, the parties entered into a settlement calling for enforcement of the judgment. It is believed to be the first case in which a foreign judgment for rape has been recognized and enforced in a United States court.
Deans told the Milwaukee court that the U.S. Navy had ordered him to leave Japan despite Navy legal officers and Deans knowing of the Japanese court case against Deans. The US Navy did not inform the Japanese court or Ms. Fisher that Deans had been ordered to depart Japan prior to the court hearing in Japan and issued Deans an honorable discharge.


The Milwaukee County Circuit Court entered a judgment recognizing that the Japanese civil court judgment was valid and enforceable, and that Deans had to compensate Ms. Fisher. As part of the settlement Ms. Fisher accepted only $1 of the Japanese civil judgment as her reason to pursue the court case was not for monetary compensation, but rather to obtain court justice for the criminal act committed against her and to expose the U.S. military's long-standing procedures of sending military personnel accused of criminal acts in other countries out of the country before court actions can take place.
"History has been made," Fisher told The Japan Times. She said the result will make it more difficult for U.S. military personnel to evade justice after committing a crime in Japan. "But it does make me angry that Deans is still free. I think he should be in prison."
"We are very proud to have represented Ms. Fisher in her tireless efforts to finally recognize a judgment to which she has long been entitled," said Perkins Coie partner Chris Hanewicz, who led the pro bono team representing Ms. Fisher. "This result is a testament to her incredible strength and determination."
Retired US Army Reserve Colonel Ann Wright said...
"While one in three women in the military are raped by fellow servicemen during their service, many civilian women living near US military bases in the United States and in other countries are also raped by US military personnel. This judgment gives hope for those living in other countries who have never been able to hold the rapist accountable because they have been allowed by the U.S. military to leave the country prior to any court proceedings taking place."
U.S. military service members commit over 30 serious crimes a month in Japan, over 360 crimes in a year, yet the Japanese government seldom attempts to prosecute. A 1953 document between the United States and Japan reveals that the Japanese government will exercise primary right of jurisdiction "only in cases of material importance" to the government of Japan. Ms. Fisher questions why the Japanese government has not considered the criminal act of rape to be of material importance in many of the cases of the rape of women in Japan by U.S. military. See "Jane's Story: Crime Without Punishment in Japan," The Economist, December 10, 2008.
Ms. Fisher discussed the verdict at a November 21, 2013 press conference at the Foreign Correspondents' Club in Toyko, Japan.
Ms. Fisher is available for interviews at Catherine Jane Fisher warriors.japan@gmail.com