Reprinted from Mike Malloy Website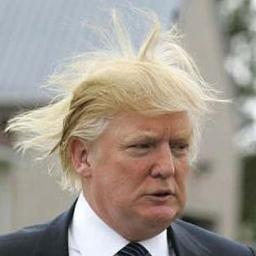 Donald Trump
(
Image
by
twitter.com
)
Details
DMCA
Well it IS October, right? The silly season for surprise! politics. Many of us got super excited over the weekend when the NY Times splashed Trumps' old tax returns showing it was possible he didn't have to pay taxes for 18 years. WOW! Gotcha' sucker! Game over. It's Clinton, game, set, match.
However, after the initial round of fist-bumping and champagne popping, reality started to return. Hmmm ... the old tax documents were dropped off at the NYT offices with a Trump Tower return address? Seems odd. A disgruntled Trumpster? Maybe. Or just maybe ... maybe Trump is playing puppetmaster with the media yet again.
Well, we didn't have long to wait. Trump took the podium Monday in Colorado with such smug glee all doubt evaporated along with the confetti and party hats. He proudly proclaimed that of COURSE he played the tax system for all it's worth, he is such a schreeeeeewd business genius, he knows how to maximize profit! And as a trusted servant of the American people, he will work for "us" to get us the best "deal" for America!
See how that works? Brilliant. Preemptive strike. Now if his recent returns are released, case closed -- it's all explained.
Furthermore (are you listening, undecided Libertarians?) Trump didn't pay taxes because he (wait for it) didn't approve of how the Big Evil Government spends taxpayer's money! Karl Rove couldn't have written it better himself. Gary Johnson's crew must be hittin' the bong extra-heavy tonight after Trump's star turn today.
Now there is the breaking news of the NY (Democrat) Attorney General's cease and desist order to the Trump Foundation, ordering them to stop fundraising until it clears up failure-to-rile report violations for several years. Team Mean Tangerine quickly cried foul, claiming (at least semi-truthfully) that this was another partisan political game, given the fact that the NY AG had thus far ignored the forgotten filings for so many years. Whatever. His moronic minions aren't going to care about this anyway. Because Trump is a GENIUS you see. Of course he's gaming the system. That's exactly what they want him to do. Because The Donald hates the guv'ment as much as they do!
Don't they get it by now? They will never beat Trump by pointing out his shifty business practices or sly legal maneuverings. That's what makes him an anti-hero to these people.
Meanwhile, Julian Assange has hinted at fresh hell for Hillary with another document release this week, just in case you've been wondering if he's played his last card. Seems not. And this paper missile hints at being more damaging than the anti-Bernie bias that sent Debbie Wasserman Schultz scurrying to hide under Hillary's skirts (or pantsuit legs) along with three other scheming staffers. Wikileaks' recent tweets suggest that it would be releasing some of the "bombshell" information from the nearly 150K Hillary email the FBI still has under wraps.
When might this happen? Well, October 4th marks the 10th anniversary of Wikileaks. So we might not have to long to wait, Truthseekers. I'll bring the popcorn. Balloons are on you.