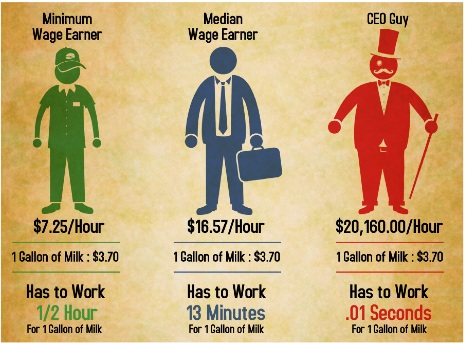 Minimum wage
(
Image
by
Progressive Charlestown
)
Details
DMCA
Raising the minimum wage will not just help the economy.
It will not just help lift people out of poverty or prevent some from descending into it.
According to a Journal of Epidemiology and Community Health study, raising the minimum wage by a single dollar can prevent suicides.
Tens of thousands of suicides the past 25 years could have been prevented had wages been higher during periods of widespread unemployment.
A dollar could have saved 27,000 lives.
A two-dollar increase could have saved 57,000.
Emory University epidemiology doctoral student and the study's lead author, John Kaufman, stated:
"This is a way that you can, it seems, improve the well-being of people working at lower-wage jobs and their dependents."
Kaufman said the study focused on less-educated adults due to their tendency to work minimum-wage jobs and their increased risk of depression and suicide.
According to the study:
"Our findings are consistent with the notion that policies designed to improve the livelihoods of individuals with less education, who are more likely to work at lower wages and at higher risk for adverse mental health outcomes, can reduce the suicide risk in this group. Our findings also suggest that the potential protective effects of a higher minimum wage are more important during times of high unemployment."
Kaufman added:
"During periods of high unemployment, people are more willing to work at lower-wage jobs, and those lower-wage jobs are going to be the ones that have increased pay if there's an increase in minimum wage. Those jobs become more valuable both to the people working and to their dependents and their families, compared to times when the economy is doing well."
The study goes on to note:
"Though the federal minimum hourly wage increased from $3.80 in 1990 to $7.25 in 2015, adjusting for inflation reveals essentially no change, and since the 1968 peak the inflation-adjusted minimum wage has decreased; currently, 29 individual states and Washington, D.C. have raised their minimum wages, while 21 maintain the lower federal minimum."
(Note: You can view every article as one long page if you sign up as an Advocate Member, or higher).