A former leader of France's elite paratroopers was among demonstrators carrying small arms arrested in an anti-immigrant rally in Calais organized by the far-right Pegida Party that has spread from Germany across Europe.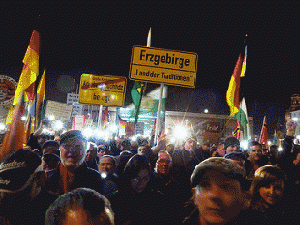 Pegia Demonstration Dresden am 23.03.2015
(
Image
by
Metropolico.org
)
Details
DMCA
Seventy-five year old legendary General Christian Piquemal, an admirer of General Marcel Bigeard who oversaw torture during the Algerian War, is a hero of France's right-wing National Front Party, which is likely to react forcefully if tomorrow a judge orders him to jail, as required by new anti-terrorism laws. Tensions between the population of Calais and the thousands of migrants trying to cross the Channel to Great Britain could pit right against left in the capital and beyond .