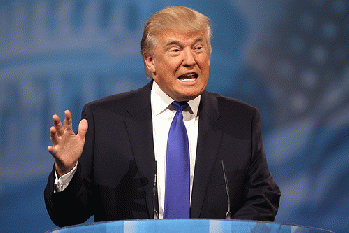 Donald Trump

(

Image

by

Gage Skidmore

)

Details DMCA

All over the globe, including here in the U.S., there is a resurgence of muscular authoritarian politics. How that trend unfolds and is enforced varies country by country, but the core is recognizably neo-fascist, to a lesser or greater degree, often emerging from the extreme right wing.

This rise of authoritarianism is as true in Turkey as it is in Russia, in the turbulent greater Middle East as it is in the Philippines -- and, of course, as it is in the Trump movement in America.

To be sure, there are occasional left-wing strongmen as well, but these days, most of the autocratic rulers seem to congregate on the far-right edge of the political spectrum.



It behooves those of us dedicated to the viability of democratic institutions to try to understand the genesis of this rising authoritarian movement in order to better counter its brutal programs and policies and its scary growth.

In this essay, I'll be focusing on what's happening in the U.S., and pointing to a commonality on the global scale.

"STOP THE WORLD, I WANT TO GET OFF!"



The major changes taking place all over the world -- in technology, in medicine, in income inequality, in gender roles, in the law, in sexual mores, in world trade, and so on -- are coming at all of us with such rapidity that it's almost dizzying. American society likewise is undergoing these ground-breaking changes at near-warp speed.

The upcoming generation, especially those in their 20s and 30s, seems more comfortable in adapting to these rapid sociological/technological shifts. Older citizens, possibly more frightened by rapid change, often seek succor in the old-fashioned mores and verities and behaviors. Status quo ante as comfort food, so to speak.

Demagogues and would-be autocrats -- in the U.S., read: Trump -- play on that fear of rapid change, and promise a return to a (mostly fictional) quieter, less-chaotic time and pace, when everything and everybody kept to their ordained place. Those well-ordered societies didn't feel the need to deal with seismic shifts in demographic and economic trends or with issues arising from waves of new immigrants.

The order-imposers, the police, were, if not universally respected, universally feared and obeyed, no questions asked. In today's cell-phone-camera world, tweeting millennials are demolishing that old-school paradigm.


THE LEADER ON A WHITE HORSE

When societies seem to be spinning out of control, when the traditional center no longer holds, when citizens' frustrations and fears reach critical mass, the temptation arises to fall behind a leader promising a rescue by cracking heads and bringing rigid order to roiling societies: the stereotyped strongman on a white horse.

In the 1930s in key countries, it was a Hitler in Germany, a Mussolini in Italy, a Stalin in the USSR, a Franco in Spain, et al. In our own time, it's a Putin in Russia, an Erdogan in Turkey, a Xi in China, a Thaksin in Thailand, a Mugabe in Zimbabwe, a Duterte in the Philippines, an al-Sisi in Egypt -- and, our own homegrown Mussolini in America, Donald J. Trump.


It must be understood that these authoritarians often differ widely in their origins (Erdogan, for example, assumed power through elections) and methods of operation, degree of brutality, etc. Every society has a multiplicity of forces affecting its manner of governance. There is no one template that explains the various expressions of authoritarianism across the globe.

But there are enough similarities to draw some tentative conclusions.

(Note: You can view every article as one long page if you sign up as an Advocate Member, or higher).