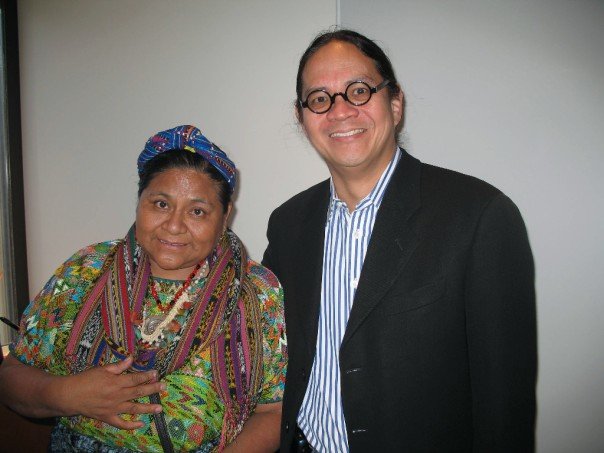 Yobie Benjamin with Nobel Peace Prize winner Rigoberta Menchu
"But at the end of the day, it's not about me. It's about the people of the Gulf," Says Yobie Benjamin.
Well, actually it is about both, and how a former political prisoner from the Philippines came to the US, made a whole ton of money, and now is giving it back to do good. One of the ways Yobie Benjamin is doing good is by helping people, property, and wildlife destroyed by the BP oil catastrophe in the Gulf of Mexico. A serious frustration experienced by people affected by the oil spill is the lack of a centralized database that contains any and all information related to the disaster. The recent directive by the Coast Guard, limiting access to photographers and journalists to 65 feet from operations, has further contributed to fear, uncertainty, and worry that a lack of government transparency will stifle ordinary citizen's right to know what is happening.
Shortly after the Transocean/Deepwater Horizon wellhead exploded, Benjamin assembled a volunteer group of technology and web design experts, journalists, legal and business professionals and ordinary individuals who wanted to help with the spill crisis. The goal was free and unfettered information sharing and the creation of a historical archive of the effects of spill in the Gulf of Mexico.
"Our goal is to make it easy for people to create living history and share information on the spill and document baseline information for settlement claims or possible legal class actions down the road," Benjamin said. "It's also a good way to relate to others in the community who are impacted by the disaster."

The Gulf Coast Spill Coalition, Inc website is an open platform. This means there is no need to register, submit personal information, or otherwise compromise privacy in order to upload commentary, photos, and video. Everyone with a camera, smart phone or computer is now a citizen journalist with a web outlet to upload images of oil on beaches, injured wildlife, volunteer activities and anything else that needs the light of day. You don't have to be Anderson Cooper to make your voice heard. You don't need the approval of a news organization.
It is impossible for news organizations and independent journalists to be everywhere, but the people of the Gulf Coast have access to every bayou, every backwater, every inch of Pensacola Beach, the Atchafalaya Basin, Grand Isle, Orange Beach and every drop of oil that is ruining their lives. Now, they can document it for the world to see.
Over the phone, Benjamin took us on a dizzying tour of the website, which is somewhat of a marvel and reflects his expertise in state-of-the-art web technology. If you have web access, all you have to do is take a picture, submit a report, find your location on a Google map, and upload. Mobile apps are available for Android, iPhone and Blackberry, so it's simple to upload from any location. Benjamin says there are over 1700 active users of the mobile apps to date. The homepage features a scrolling real time Twitter feed. This site is social networking on steroids and should do much to alleviate the sense of helplessness currently being experienced by Gulf Coast citizens. Benjamin pledges that organizers are happy to share the raw data that they collect with any charitable organization or educational institution.
Benjamin's deep belief in the power of technology to do good is hard-earned. Now fifty, at seventeen he was held as a political prisoner in the Philippines after he lead student protests against the dictatorship of President Ferdinand Marcos. He was jailed for nine months.
Both his grandmother and great-grandfather were also poor revolutionaries, and he followed their lead. In a 2009 interview, Benjamin told the San Francisco Chronicle that he isn't driven solely by altruism. He is shy about his financial success only saying he has done very well. "I'm probably one of the biggest capitalists you'll ever meet," Benjamin, 50, said with a chuckle. "I start companies, I sell companies. I do startups, I employ people. And I love making money but I believe there is an obligation to give back."
During a phone conversation, Benjamin reflected on his detention by the Marcos dictatorship. "Freedom is not free and the truth is immutable. When you have truth on your side, you should never be afraid even if it means speaking to power. The people of the Gulf have suffered immensely. The oil sludge did not discriminate between Republicans or Democrats, rough necks or fishermen, hotel owners and restaurant owners and busboys and people who wash linens," he said.
"My personal struggle during the Marcos dictatorship pales in comparison to the struggles of hundreds of thousands of Gulf residents, the animals and the environment. I hope the work of everyone in the Gulf Coast Spill coalition will help people speak to and fight the powers." Benjamin added.
Benjamin has certainly done much more than our brief conversation would indicate, and is surprisingly modest about his monetary accomplishments. Talking to him, you really believe that this man is all about doing good in the world and making a difference. The Gulf Coast Spill Coalition website is a powerful tool that Benjamin has offered, no strings attached, to the beleaguered people of the Gulf Coast to tell their stories to the world. It truly is a living historical archive.
Calling himself a late comer to a green sensibility, Benjamin saw first hand the effects of global warming as a member of an advisory group to the NASA AMES Center. It was his concern for the environment that drove him to organize with others to build the Gulf Coast Spill Coalition. Benjamin said, "The credit for the site belongs to the volunteers who worked in their free times to put things together. It was the volunteers' efforts that really kept me going. We all believed we needed to help the people of the gulf."
The Gulf Coast Spill Coalition Headquarters are located in Coral Springs, FL. The organizations that have built and supported effort include the Hurricane Law Group, Edgecase, Engine Yard, Intridea , Tweebus, and Thoughtworks.
####
Note: It was the power of the Huffington Post's partnership with Facebook that connected me with Benjamin. It happened that Coast Guard Petty Officer Rachel Polish posted the same explanation regarding media restrictions on boom operations and clean-up sites to our respective blogs. Benjamin found me on Facebook. You can find his blog for the San Francisco Chronicle here.