Cross-posted from Mike Malloy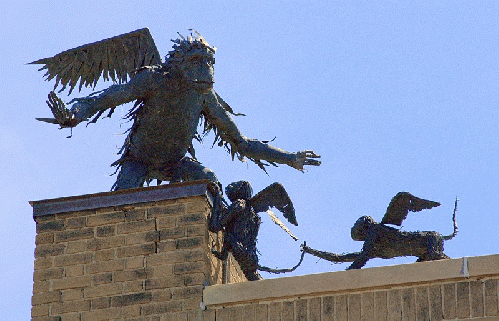 (
Image
by
Atlas Obscura
)
Details
DMCA
So many flying monkeys -- so little time. Should we focus on the senate's vote against pay equality for women? The possibility of sending ground troops into Iraq? The latest accidental family shooting fatality? The most recent El Rushbo outrage? Seems more difficult than usual to pick a proper topic for our weekly Wednesday sermon, faithful Truthseeker.
The misogynist male legislators that dominate the GOP still maintain their medieval views where it concerns paycheck fairness.
The Huffington Post reports it this way:
"The Paycheck Fairness Act would ban employers from retaliating against employees who share salary information with each other, impose harsher penalties for pay discrimination and require employers to be able to show that wage gaps between men and women are based on factors other than gender.

"The bill needed 60 votes to overcome a Republican filibuster and advance to a final vote on passage, but it fell short Monday by a vote of 52 to 40. Senate Democrats have brought the bill to the floor four times since 2011, and each time Republicans have rejected it."
Their lame excuse for refusing to support equal rights? That it would discourage employers from hiring women. Gimme a break. Any employer who would deliberately pay a woman less than a man for the same job is establishing basis for a lawsuit ... and women wouldn't be happy working for such a jerky outfit anyway.
Then there is the increased possibility that we're sending more combat troops into Iraq, which if it comes to pass will make the president do a dizzying 180 rivaling King George's the First's doomed proclamation about "no new taxes."
CNN has more:
"Gen. Martin Dempsey, the chairman of the Joint Chiefs of Staff, told the Senate Armed Services Committee that it was possible that U.S. troops advising and assisting Iraq's military could be deployed to fight.

"'To be clear, if we reach the point where I believe our advisers should accompany Iraqi troops on attacks against specific ISIL targets, I will recommend that to the President,' Dempsey said during testimony before the committee.

"Dempsey's comments, which he made several times under questioning by senators, contradicts President Barack Obama's promise that the campaign to defeat and destroy the terrorist group that calls itself the Islamic State would not include American 'boots on the ground.'"
The President maintains there will be no boots, but stopped short of saying "read my lips." Pour yourself a shot of Victory Gin and repeat this phrase Truthseeker -- we are winning the war with East Asia ... we have always been at war with East Asia ...
Meanwhile, in the sunshine state, a birthday party turned deadly when the honoree's brother decided to show off his gun-slinging skills and ended up fatally shooting his sister in the neck, right in front of her daughter.

RawStory has the tragic details:
"A Florida woman was shot and killed over the weekend when her brother unsuccessfully attempted to re-enact some fancy gunplay from the movie 'Tombstone.' In the 1993 classic western, actor Michael Biehn, as Johnny Ringo, elaborately twirls his pistol during a barroom showdown with Val Kilmer, as Doc Holliday.

"Eric Stayton attempted the same stunt Saturday night at his home in Chaires, where about a dozen friends and relatives were celebrating the birthdays of his sister, 39-year-old Renee Chaires, and her 23-year-old daughter, reported the Tallahassee Democrat. Chaires, a hair stylist who would have turned 40 this week, was standing next to her daughter in the home's carport when the 50-year-old Stayton began twirling his gun in the air.

"As he attempted to holster the weapon, it slipped from his hand, struck the concrete floor, and fired. A single shot struck Chaires in the neck, and she later died."
(Note: You can view every article as one long page if you sign up as an Advocate Member, or higher).