Ever since the invention of printing in 1440, humans have been gradually moving from the old world of kings and slaves to the modern world of democracies and individual freedoms. This great liberal shift is continuing today. There are occasional setbacks, but in the long run the trend to a more liberal world of self-government with individual equal rights and liberties has continued.
Will the gradual progress to a more liberal world of equality, freedom, and Democracy continue or has the Trump movement created an overwhelming backlash? The January 6 attacks on America by the QAnon and the far right hate groups seem to indicate that the historical liberal trend may have been stopped and we are now sliding backward. But there is strong evidence that the Red States are joining the centuries old migration to a more liberal world.
Republican Party Challenges
The US voters are sharply divided geographically. Several states are firmly liberal Democrat states while others are conservative Republican states. The political difference is generally aligned with urban and rural areas. In the urban areas of California, Massachusetts, New York, and Washington, Democrats outnumber Republicans by 2 to 1. The State government in California has so few Republicans, that in voting on issues, Republicans are irrelevant. The opposite is true in several Red states.
There are indications that the Southern Red States are becoming similar to the urban areas in the Blue States. This implies a corresponding shift to the political center. The big "swing" states of Michigan, Pennsylvania, and Wisconsin were won by Trump in 2016 but lost by Trump in 2020. Although these swing states do not reveal a long-term trend, this shows they are more flexible and independent than the Red States have been.
The states of Georgia and Arizona have been firmly Republican states for many years. But in the 2020 election these states voted for the Democrat candidate. Georgia even elected two Democrats to the Senate. Arizona and Georgia could be the proverbial canary in a coal mine indicating a trend toward more non-partisan independence in the Red states. There has been a subtle shift in state demographics that has gone unnoticed. This silent shift in political perspectives has been quietly happening with little fanfare. There have been several reasons for the Red States to become less monolithic and become a balance of liberals and conservatives.
Corporations
One big reason that the Red States are losing their intractable allegiance to the Republican party is the relocation of corporations. Many corporations are now moving to Texas and other Red States. New companies and high-tech companies tend to employ young and highly educated employees. These types of people, in general, are fiscally conservative and socially liberal. The Red States are more concerned with the social issues than the fiscal issues. So, this influx of social liberals will not be insignificant. The electorate becomes more politically balanced as more of these companies get established in the Red states. Atlanta, Georgia and San Antonio, Texas are starting to look more like the liberal leaning cities of Boston and San Jose. In the past, corporations chose to locate where there was an abundance of highly educated and skilled talent. This is less of a concern today because the pandemic has shown that people can be productive working at remote locations. The abundance of local talent is less of a concern than it has been in the past.
Houston is shifting from an economy centered on oil, gas, and NASA to include other areas such as construction and health care. The Dallas-Fort Worth area has had dozens of national headquarters move into the area. Elon Musk is moving Tesla and Space X to Texas. Oracle Corporation has moved to Austin, Texas. Several large financial institutions are moving from New York to less expensive areas. In general, the employees in these companies tend to be young, well educated, and social liberals. The urban centers in Red States are moving towards the Democrats the way Atlanta Georgia already has. If the populations in urban areas exceeds that in the rural areas, the entire state becomes a Blue State.
Gen Z
Another demographic that is leveling of the Red State concentration of Republicans, is the emergence of people under 30 who are more involved in politics than they had been in the past. Voters over 60 have memories of the cold war, the Cuban Missile Crisis, and the overall fear of Communism. Republicans constantly exploit this fear with the big lie that Democrats are all secretly Communists who want to destroy capitalism. These false attacks on Democrats do not resonate with voters under 30. Younger voters think of Communism and the Cold War of the 60's as irrelevant ancient history.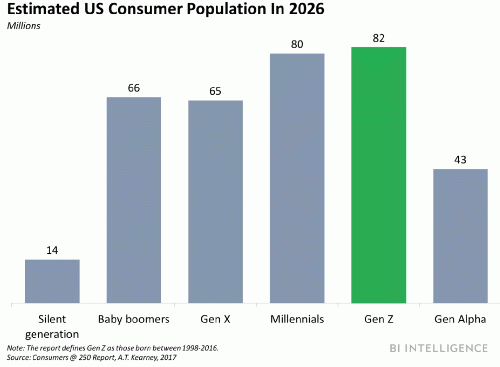 Voters by Age
(
Image
by
public domain
)
Details
DMCA
This generation is aware of the great success of the socialistic capitalism countries of Europe and the far East. To them, all the scare tactics over socialism makes no sense. They just ignore it. They see all the advantages of Universal Health care and can't understand why Republicans object to a proven system.
Generation Z (the youngest voters) has come of age during the Trump years and automatically associate all the Trump lies and disregard for laws with the Republican Party and its policy of party over country. If Nixon were impeached with today's Republicans in office, he would not have to resign. Republicans in 2021 would never vote to impeach another Republican even if he encouraged an attack on the United States government as Trump did. This un-American policy has alienated most of those under 30. They will soon be the most populous generation of voters.
Reverse Migration
Red State politics will also be influenced by the reverse migration of blacks back to the Southern states. The Pittsburgh Post-Gazette reported:
"Over the last two decades, according to the Census, the states with the biggest gains in black population have been Georgia, South Carolina, Virginia, Texas and Florida. New York, Illinois and Michigan have seen the greatest losses. Today, 57 percent of American blacks live in the South -- the highest percentage in a half-century."
Many of these blacks are young, college-educated, upwardly mobile professionals who also fall on the Democrat side of the political divide. Blacks are well aware of the enormous efforts of Republican to stop blacks from voting. Blacks are also outraged at Republican efforts to protect police who shoot unarmed African Americans in the back. They are part of the challenge Republicans face in retaining the majority in the Southern states.
Negative Campaigns
The overriding goal of all the far-right media, ever since the repeal of the Fairness Doctrine in 1987, has been to constantly attack and vilify Democrats regardless of any facts or of any rational logic. Every time a Democrat burps, the far-right media goes into a frenzy accusing the person of trying to destroy capitalism and America.
Republican campaigns are a monument to the creativity and imagination of their advertising workers. They made up stories that accused Hillary of murdering state department workers in Benghazi. This fiction was totally debunked by 7 detailed investigations including one by Republicans. They spread conspiracy theories of the Clinton Foundation involvement in corruption. There never was any corruption. They accused the Clintons of murdering Vince Foster, deputy White House counsel, without any motive or evidence. Foster had killed himself.
Even though all these fact-free attacks on Democrats have been totally debunked, Republicans accomplished their primary goal of cultivating a culture of intense hatred of Democrats. The groundwork had been laid so that anything critical of Democrats would be immediately embraced as perfectly valid no matter how absurd. This was the situation that the QAnon conspiracy promoters took advantage of.
The QAnon Schism
The Republican leadership realizes they have gone too far with all the fake demonization of Democrats. The QAnon conspiracy cranks have fallen so far into an alternate Universe of lies that now Republicans in general are suffering a severe credibility crisis. The only winners are the comedy clubs that have everybody laughing hysterically at the things QAnon Republicans believe.
The most prominent QAnon promoter is the Republican representative from Georgia, Marjorie Taylor Greene. Several newspapers have reported that Ms. Greene believes California wildfires were created by Jewish Space lasers. It is also claimed that Greene believes Hillary mutilates children and drinks their blood. There are reports regarding social media where Greene endorses murdering Democrat leaders. The list of craziness goes on. Some Republicans want to remove her from the party while others want to support her because she has a big following.
The Republican party is at a pivotal point. They must select one of two options. In the past, nearly everything Republicans did was to fuel the flames of hatred of Democrats. This has gone out of control to the point of making Republicans look foolish and un-American. In particular, the Gen Z voters have a very poor image of QAnon Republicans. Trump has never been hurt by his many scandals while he was running for office. But now that he is out of office, his legal problems could seriously limit his appeal.
Republicans can continue down this path of radical QAnon and Trump or they can shift to a program of positive proposals to address all the many problems in the world today. For example, today's Republicans do not even recognize the thousands of gun deaths or global warming or health care as problems. They would gain a lot of credibility if they simply admitted these are problems.
Summary
As the Red State urban centers continue to grow with young professionals, with black voters, and with corporations, they will gradually become more evenly divided between the two major parties and possibly even become reliably Blue.