Senator Rand Paul is not the only one with serious questions about the nomination of John Brennan for CIA Director! Many people are rightly concerned that the CIA Nominee failed to provide a clear answer to Paul's question: "Do you believe that the president has the authority to order lethal force, such as a drone strike, against a U.S. citizen on U.S. soil, and without a trial?"
This coming Wednesday, Feb. 27, the House Judiciary Committee will hold a hearing on "Drones and the War On Terror: When Can the U.S. Target Alleged American Terrorists Overseas?" Unfortunately, besides being framed in a completely leading way, the only witnesses that will testify -- all four -- were drawn from the same Lawfare blog. Lawfare founder Benjamin Wittes even gloats about it. Have you ever heard of a congressional hearing that calls all of its "experts" from one certain pro-war agenda-driven blog?! (Note how the Lawfare blog byline, "Hard National Security Choices", masks how these blogging lawyers tend to come up with the very easy answer that the law of force is the answer instead of the rule of law. Clearly the aim of this "Judiciary Hearing" should be questioned as it does not appear it is to fairly consider the range of views about the illegality of drone assassination without judicial process.)
Additionally, we here in Minnesota have initiated meetings and letters signed now by over 200 members of different peace groups asking our Senators Amy Klobuchar and Al Franken, given their important Judiciary Committee assignments, to use their influence to seek answers. We've asked several other serious questions about Brennan's background with CIA torture black sites as well as his role in drone assassinations (in this latest full letter to Sen. Klobuchar.)
Finally our Veteran Intelligence Professionals for Sanity (VIPS) group just warned Senator Feinstein of the following thorny issues raised by Brennan's testimony in his confirmation hearing.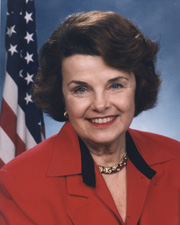 Sen. Dianne Feinstein, D-California, chair of the Senate Intelligence Committee.
MEMORANDUM FOR: Senator Dianne Feinstein, Chair, Senate Select Committee on Intelligence

FROM: Veteran Intelligence Professionals for Sanity

SUBJECT: Due Diligence on John Brennan

We write to urge you to ensure due diligence regarding John Brennan's fitness to become CIA director before you make the next-to-the-worst mistake of your tenure on the Senate Intelligence Committee by endorsing Brennan. Your worst - perhaps you will now agree - was your vote to authorize war on Iraq.

With your vote in October 2002 on Iraq, you oddly parted company with most of your Democratic colleagues on the committee, including chairman Bob Graham. They saw through the flimsy intelligence. After a five-year committee investigation was completed in 2008, then-chairman Jay Rockefeller concluded:

"In making the case for war, the administration repeatedly presented intelligence as fact when in reality it was unsubstantiated, contradicted, or even non-existent. As a result, the American people were led to believe that the threat from Iraq was much greater than actually existed."

Brennan Now Taking Aim at Iran?

This recent history is highly relevant because, at the time, John Brennan had a ringside seat for this unconscionable charade as it was being acted out (more on that below). Of still more importance are recent signs that Mr. Brennan intends to ape his discredited mentor, former CIA Director George Tenet, by slanting intelligence to "justify" an even more catastrophic attack - this time, on Iran.

How else to explain why Brennan, in his prepared testimony to your committee on February 7, departed sharply from the longstanding position of U.S. intelligence on Iran's nuclear program. He said:

"And regimes in Tehran and Pyongyang remain bent on pursuing nuclear weapons and intercontinental ballistic missile delivery systems."

Whatever grounds there may be for suspicion that Iran might be seeking a capability that eventually would allow it to rapidly break out of Nonproliferation Treaty (NPT) constraints on building a nuclear weapon, there is even less evidence that Iran is seeking an ICBM capability. Iran has never flight-tested a ballistic missile with ranges in excess of its 2200-kilometer range Sajjil MRBM. Nor has it launched a space rocket that would be a suitable model for an ICBM.
(Note: You can view every article as one long page if you sign up as an Advocate Member, or higher).