Cross-posted from The Nation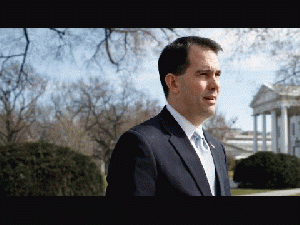 When Gogebic Taconite LLC began moving in November 2010 -- the same month Scott Walker was elected governor of Wisconsin -- to develop an open-pit iron mine in one of the most environmentally sensitive regions of northern Wisconsin, the Florida-based mining firm got a lot of push back. Residents of the region objected, along with Native American tribes. So, too, did citizens from across Wisconsin, a state that has long treasured the wild beauty of the Penokee Range. Environmental and conservation groups voiced their concerns, as did local and state officials from across the political spectrum.
The outcry heightened as Gogebic Taconite and its allies promoted a radical rewrite of existing mining regulations in order to promote a project that could grow to be four miles long, more than a mile wide and 1,000 feet deep. Democratic and Republican legislators began to ask tough questions. Yet Governor Scott Walker remained "eager to advance a mining bill," according to Wisconsin media that reported extensively on the governor's determination to over-rule objections to the grand schemes of an out-of-state corporation that newly released documents show secretly steered $700,000 to "independent" efforts to provide political cover for the embattled governor.
The documents, released as part of legal wrangling over a "John Doe" investigation into alleged fund-raising abuses during the recall elections of 2011 and 2012, have revealed both big contributions and the big concerns of a key investigator about "an appearance of corruption."
(Note: You can view every article as one long page if you sign up as an Advocate Member, or higher).