"State and federal officials have advised that Los Angeles Unified and Los Angeles County can enter into an agreement to make the meals we have served eligible for FEMA reimbursement. Absent such an agreement, FEMA has told Los Angeles Unified that it cannot secure reimbursement."
- LAUSD, UTLA and SEIU 99
As the COVID-19 pandemic descended upon Los Angeles last spring, the Los Angeles Unified School District (LAUSD) quickly closed schools to protect students and their families. Recognizing the threat that this created for the approximately 405,000 students, or 72.4 percent of district's students who receive free and reduced-price meals, Grab and Go centers were established within days to ensure food insecurity would not compound the crisis. Moving beyond their mandate to ensure the well-being of children, the LAUSD also used these centers to provide food to other family members and any other adults in need. To date, the district has served over 50 million meals, including approximately 13.5 million meals to adults.
The decision to do "the right thing" has come with high costs for the LAUSD. While meals for children are reimbursable in the same way that they would have been if the district had served them inside of a school, the meals provided to hungry adults are not. LAUSD Board Member Scott M. Schmerelson first expressed his concern that the City of Los Angeles was not participating in these costs at a Board meeting last May. His representative told the Northridge East Neighborhood Council (NENC) Education Committee during a meeting last week that the district has also requested help in obtaining funding to cover the costs. At the time of the meeting, the efforts had not been successful.
In a letter dated July 29, addressed to County Supervisors Kathryn Barger, Hilda Solis, Mark Ridley-Thomas, Sheila Kuehl, and Janice Hahn, the LAUSD and two of its labor partners pleaded their case for cooperation from the Board of Supervisors. Funding for emergency meals for hungry adults is available to the district under the Coronavirus Aid, Relief, and Economic Security (CARES) Act, but only if the county signs it on as a partner. The county's failure to assist with these efforts after three separate written requests for help jeopardizes the ability of the LAUSD to fulfill its mission to students in ten cities within the county, along with unincorporated areas like East Los Angeles. Given the county's consistent attacks on public education, perhaps this is its goal.
Marilyn Koziatek, Schmerelson's opponent in the November election, has seemed to admonish the demand by the school board member that other government agencies cover the cost of feeding adults. Koziatek leveled this criticism even though Granada Hills Charter, the school she helps to lead, did not have a Grab and Go program several weeks into the crisis and still does not serve hungry adults. Koziatek and Schmerelson are both invited to participate at the next meeting of the NENC Education Committee meeting on September 2. If Koziatek chooses to participate, perhaps she can explain why it is wrong for the district to seek reimbursement and protect public education funding.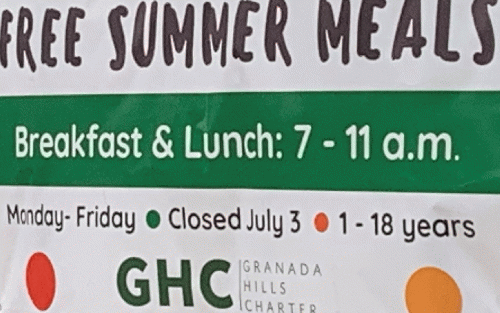 (
Image
by
Carl J. Petersen
)
Details
DMCA
________________________________
Carl Petersen is a parent, an advocate for students with special education needs, an elected member of the Northridge East Neighborhood Council, a member of the LAUSD's CAC, and was a Green Party candidate in LAUSD's District 2 School Board race. During the campaign, the Network for Public Education (NPE) Action endorsed him, and Dr. Diane Ravitch called him a "strong supporter of public schools." For links to his blogs, please visit www.ChangeTheLAUSD.com. Opinions are his own.