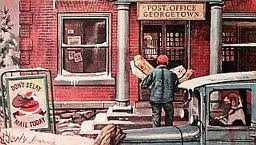 Post Office 1950
(
Image
by
pophistorydig.com
)
Details
DMCA
On July 27, 2012, the National Association of Letter Carriers adopted a resolution at their National Convention in Minneapolis to investigate the establishment of a postal banking system. The resolution noted that expanding postal services and developing new sources of revenue are important components of any effort to save the public Post Office and preserve living-wage jobs; that many countries have a long and successful history of postal banking, including Germany, France, Italy, Japan, and the United States itself; and that postal banks could serve the 9 million people who don't have a bank account and the 21 million who use usurious check cashers, giving low-income people access to a safe banking system. "A USPS bank would offer a "public option' for banking," concluded the resolution, "providing basic checking and savings -- and no complex financial wheeling and dealing."
What is bankrupting the USPS is not that it is inefficient. It has been self-funded throughout its history. But in 2006, Congress required it to prefund postal retiree health benefits for 75 years into the future, an onerous burden no other public or private company is required to carry. The USPS has evidently been targeted by a plutocratic Congress bent on destroying the most powerful unions and privatizing all public services, including education. Britain's 150-year-old postal service is on the privatization chopping block for the same reason, and its postal workers have also vowed to fight. Adding banking services is an internationally tested and proven way to maintain post office solvency and profitability.
Serving an Underserved Market Without Going Broke
Many countries operate postal savings systems through their post offices, providing depositors without access to banks a safe, convenient way to save. Great Britain first offered this arrangement in 1861. It was wildly popular, attracting over 600,000 accounts and -8.2 million in deposits in its first five years. By 1927, there were twelve million accounts--one in four Britons--with -283 million on deposit.
Other postal banks followed. They were popular because they serviced a huge untapped market--the unbanked and underbanked. According to a Discussion Paper of the United Nations Department of Economic and Social Affairs:
The essential characteristic distinguishing postal financial services from the private banking sector is the obligation and capacity of the postal system to serve the entire spectrum of the national population, unlike conventional private banks which allocate their institutional resources to service the sectors of the population they deem most profitable.
Serving the unbanked and underbanked may sound like a losing proposition, but numerous precedents show that postal savings banks serving low-income and rural populations can be quite profitable. (See below.) In many countries, according to the UN Paper, banking revenues are actually crucial to maintaining the profitability of their postal network. Letter delivery generates losses and often requires cross-subsidies from the post's other activities in order to maintain its network. One effective solution has been to create or expand the role of postal financial services.
One reason public postal banks are profitable is that their costs are low: the infrastructure is already built and available, advertising costs are minimal, and government-owned banks do not award their management extravagant bonuses or commissions that drain profits away. Rather, profits return to the government and the people.
Profits also return to the government in another way: money that comes out from under mattresses and gets deposited in savings accounts can be used to purchase government bonds. In Japan, for example, Japan Post Bank is the holder of fully one-fifth of the national debt. The government has its own captive government lender, servicing the debt at low interest rates without risking the vagaries of the international bond market. Fully 95% of Japan's national debt is held domestically in one way or another. That helps explain how Japan can have the worst debt-to-GDP ratio of any major country and still maintain its standing as the world's largest creditor. If you owe the money to yourself, it's not really a debt.
Some Examples of Successful Public Postal Banks
Kiwibank:
New Zealand's profitable postal bank had a return on equity of 11.7% in the second half of 2011, with net profits almost trebling. It is the only New Zealand bank able to compete with the big four Australian banks that dominate the New Zealand financial sector.
In fact, Kiwibank was set up for that purpose. When the New Zealand postal banks were instituted in 2002, it was not to save the post office but to save New Zealand families and small businesses from big-bank predators. By 2001, Australian mega-banks controlled some 80% of New Zealand's retail banking. Profits went abroad and were maximized by closing less profitable branches, especially in rural areas. The result was to place hardships on many New Zealand families and small businesses.
The New Zealand government decided to launch a state-owned bank that would compete with the Aussie banks. To keep costs low while still providing services in communities throughout New Zealand, the planning team opened bank branches in post offices, establishing Kiwibank as a subsidiary of the government-owned New Zealand Post.
Suddenly, New Zealanders had a choice in banking. In an early version of the "move your money" campaign, 500,000 customers transferred their deposits to public postal banks in Kiwibank's first five years--this in a country of only 4 million people. Kiwibank consistently earns the nation's highest customer satisfaction ratings, forcing the Australia-owned banks to improve their service in order to compete.
(Note: You can view every article as one long page if you sign up as an Advocate Member, or higher).