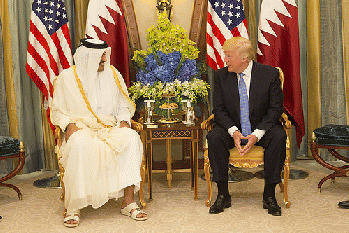 State Sponsors of Terrorism
(
Image
by
The White House
)
Details
DMCA
US proposed legislation - Palestinian International Terrorism Support Prevention Act of 2017 - threatening to sanction Qatar for its support of the so-called "Palestinian terror" was sponsored by 10 lawmakers who received more than $1m over the last 18 months from lobbyists and groups linked to Israel, Saudi Arabia, and the United Arab Emirates, Al Jazeera reported Friday.
The HR 2712 bill was introduced to the US House of Representatives on May 25, but the text wasn't available until Friday morning, hours after Saudi Arabia, UAE, and Egypt put 59 people and 12 institutions linked to Qatar on a "terror list," Al Jazeera said.
HR 2712's sponsors received donations totaling $1,009,796 from pro-Israel individuals and groups for 2016 election cycle alone, according data collected by the Center for Responsive Politics, an independent research group tracking money in US politics and its effect on elections and public policy, and then compiled by Al Jazeera.
Sponsors of the bill are: Congressmen Brian Mast (FL-18), Josh Gottheimer (NJ-5), Foreign Affairs Committee Chairman Ed Royce (CA-39) and Foreign Affairs Committee Ranking Member Eliot Engel (NY-16). The bill is co-sponsored by Congressmen Brad Sherman (CA-30), Ileana Ros-Lehtinen (FL-27), Ted Poe (TX-2), Ted Lieu (CA-33), Ted Deutch (FL-22) and Thomas Suozzi (NY-3).
Al Jazeera reported that Royce received $242,143 from pro-Israel sources for the 2016 election cycle, $190,150 went to Engel. Mast, who volunteered with the Israeli military after he finished serving in the US Army, received $90,178.
"Following my service in the U.S. Army, I chose to volunteer alongside the Israeli Defense Forces because our countries share the common ideals of freedom, democracy and mutual respect for all people. Hamas preaches destruction to Israel and death to the values we hold dear in the United States. They have murdered more than 400 Israelis and at least 25 American citizens," Rep. Mast was quoted as saying.
According to Trita Parsi, the founder of the National Iranian American Council (NIAC), a nonprofit that aims to strengthen the voice of US citizens of Iranian descent, similarities between the US-allied Arab nations' "terror list" and HR 2712 show growing cooperation between Gulf Arab states and Israel.
"The coordination between hawkish pro-Israel groups and UAE and Saudi Arabia has been going on for quite some time," Parsi told Al Jazeera. What is new, he continued, is pro-Israel groups such as the Foundation for Defense of Democracies "coming out with pro-Saudi [articles] and lobbying for them on Capitol Hill".
Parsi was quoted as saying that the sponsors of the bill are traditional pro-Saudi lawmakers; however, they are in the pro-Likud camp. Likud is the party of Israeli PM Benjamin Netanyahu.
President is required
The Palestinian International Terrorism Support Prevention Act 2017 requires the President to submit to Congress an annual report for the next three years identifying foreign persons, agencies or instrumentalities of a foreign state who knowingly and materially assist Hamas, the Palestinian Islamic Jihad, or an affiliate or successor of one of those organizations.
After identifying the organizations, the President must impose two or more sanctions, including denying
a) export-Import guarantees,
b) defense support under the Arms Export Control Act,
c) export of munitions to any agreement to which a person identified is a part,
(Note: You can view every article as one long page if you sign up as an Advocate Member, or higher).