It's the most heinous and arrogant act of violence I've ever seen the police involved with -- a baker's dozen of San Francisco cops who executed a man with their makeshift firing squad Thursday afternoon (Dec. 3), after cornering the guy on a sidewalk in the Bayview area of 'Frisco.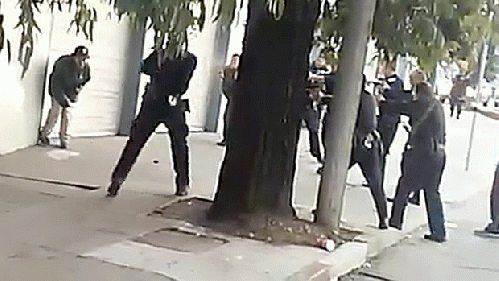 At least 10 San Francisco policemen formed a makeshift firing squad and killed this man, identified as Mario Woods, in the Bayveiw aread of the city Dec. 3 about 5 p.m.
(
Image
by
photographyisnotacrime.com
)
Details
DMCA
It's a very hard video to watch. I never would dream that American police could act this way. And even though I've seen some startling and horrifying footage over the past few years of police violence on what is predominantly African-American males; and there is new footage emerging every week, it seems, on some other horrific tragedy like this occurrence, this particular video I found particularly disturbing. It's a very short story but one with a very mean punch: A solitary figure looking quite innocuous as he's standing on a sidewalk, The hailstorm of lead, the cacophony of gunfire by the cops, the wailing of amazed and bewildered onlookers.
What in the hell is happening? What is wrong with law enforcement these days? If the police keep acting like this, maybe we would all be better off without any police. This is not law and order. It is some evil act you'd witness on a grainy black-and-white film snippet of Hitler's Holocaust at Sobibor or Auschwitz-Birkenau on The History Channel.
The police claimed the man was armed with a knife and was a suspect, or a person of interest, in a stabbing that occurred a little earlier in the day. The man in the short, 15-second video to 18-second videos highlighted on the linked articles to my opinion never resisted, and he did not show any aggression to the cops. Yet, these officers fired a fusillade of bullets at him. The man they're accosting isn't all that big.
And reports say he held a small knife. Couldn't a taser have been used instead of a firing squad? Wasn't there a martial artist with a badge in that wild buffalo circle of big, burly, trigger-chappies who could have stealthily and expertly snatched the knife from the suspect's hands, then thrown him on the hard concrete and handcuffed him? All the guy did to receive his death sentence was bang on a metal door and try to walk up the sidewalk away from these aggressive cops. Do you see the firing squad victim wielding an AR-15 or an Uzi in the video? Is he hiding a grenade launcher in his coat or under his hat?

The reason the video is so short is because it was posted on Instagram, and that's the time limit for video posts on this social media exchange.
The bystander who captured this horrific act with a cell phone camera jumped a city bus during the insanity of gun fire. This is very good, since there would probably have been a second casualty here, if the camera operator didn't hop a bus. Dead people tell no tales, and all that. . . .
It's a good thing this concerned citizen caught this murder on video, though. Otherwise, there would be some nondescript police report, with a small article published in some local papers, of some deranged black man who savagely lunged at a police officer - and the lunatic tried to cut the cop's heart out with a very long blade.
And so this begs the question: How many of these incidents are never caught on video? How many police murders are covered up so as to look like the cops were veritable heroes? Real rootin' tootin' Yankee Doodle Dandies?

The Daily Mail reported Thursday (Dec. 3) that at least 10 police officers were firing their weapons in rapid succession at the African-American male who was holding a knife. He was killed after the shooting in SF's Bayview at around 5 p.m. on Thursday, although some other meda reports say the incident occurred around 4:30 p.m..
(Note: You can view every article as one long page if you sign up as an Advocate Member, or higher).