From Mike Malloy Website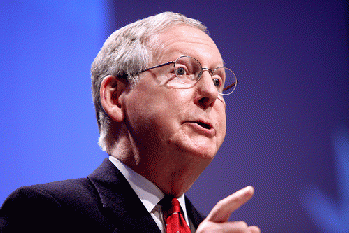 Mitch McConnell
(
Image
by
Gage Skidmore
)
Details
DMCA
Monday. The Supreme Court handed Trump a semi-win by allowing a portion of his travel ban to resume until it hears the official case later this year. Oh goody, we needed a legal way to beat up on immigrants. Not that Trump is assured a victory from the court this fall when they decide if his Muslim ban is actually a Muslim ban, but the more rabid of redneck rabble will doubtless see this as a green light to extend their oft-violent "protest" of the non-white segment of society.
Meanwhile in the Senate, the Neocons are desperate to find a way to spin the CBO report that projects 22 million Americans will be denied health care if their law passes. The possible concessions include an Obamacare-esque provision that penalizes subscribers for dropping coverage, forcing them to wait six months before they can re-enroll. Similar penalties would be imposed by insurance companies for any subscriber who was not insured for 10 of the previous 12 months.
A six-month waiting period is designed to prevent people from waiting to get covered until they are sick. But for those who receive a cancer diagnosis, a six month delay in treatment could be a death sentence. There are your death panels, folks, Neocon-style. Let's say you lost your job and your insurance. You're a little too poor to buy private insurance until you have some income. Then you get sick. What's supposed to happen then?
Face it, the only humane solution is single-payer. Medicare for all as a basic human right. It works for 98% of the industrial world, so it can't be the Great Evil the GOP has propagandized for decades. But truth and facts are immaterial in this debate in particular, and nonexistent in Trumpland in general.
You would assume that the negative CBO report would make it easier for fence-waffling Senate Republicans to vote "no" to this abomination. But then you would be "missunderestimating" (h/tW) the absolute supreme power of the Brothers Koch. They hold their Neocon puppets by the scrotum-strings, dangling donation checks in front of their pale, frozen faces. They are not happy with the stalled legislative state, given the GOP trifecta they hold in DC. So very unhappy -- according to The Guardian -- that they have closed the Congressional ATM until ACA is completely repealed and the tax code rewritten to eliminate capital gains.
At a weekend donor retreat attended by at least 18 elected officials, the Koch brothers warned that time is running out to push their agenda, most notably healthcare and tax reform, through Congress.One Texas-based donor warned Republican lawmakers that his "Dallas piggy bank" was now closed, until he saw legislative progress.

"Get Obamacare repealed and replaced, get tax reform passed," said Doug Deason. "Get it done and we'll open it back up."

The Senate will this week seek to pass its version of healthcare reform -- at present it does not have enough Republican support to overcome blanket Democratic opposition.

"There is urgency," said Tim Phillips, who leads Koch network's political arm, Americans for Prosperity, at the industrialist brothers' retreat in Colorado Springs. "We believe we have a window of about 12 months to get as much of it accomplished as possible before the 2018 elections grind policy to a halt."

The window for action may be even smaller, some Koch allies warned at the weekend retreat that drew roughly 400 participants to the heart of the Rocky Mountains. The price for admission for most was a pledge to give at least $100,000 this year to the Kochs' broad policy and political network.

There were also at least 18 elected officials on hand. Some hosted private policy discussions with donors while others simply mingled.

In between meetings, Dave Brat, a Virginia Republican representative, predicted dire consequences in next year's midterm elections should his party fail to deliver on its repeated promises.

"If we don't get healthcare, none of us are coming back," he said in a brief interview. "We said for seven years you're gonna repeal Obamacare. It's nowhere near repealed."

It's the same for tax reform, Brat said: "We don't get taxes through, we're all going home. Pack the bags."

There was a sense of deep frustration from conservative officials and donors alike, decrying the pace of progress in Washington with Republicans controlling both chambers of Congress and the White House for the first time in a decade.
(Note: You can view every article as one long page if you sign up as an Advocate Member, or higher).