This Sunday, May 17 at 9 pm ET, the PBS World Channel will begin its national broadcast of Standing on Sacred Ground, starting with "Pilgrims and Tourists." The next three episodes will run weekly on Sundays at 9 pm with "Profit and Loss" on May 24, "Fire and Ice" on May 31, and "Islands of Sanctuary" on June 14. This is a national broadcast, but local stations are showing the three films at different times. The broadcast times and dates are listed here if you do not get the World Channel.
In the premiere episode, viewers take a virtual pilgrimage to the Uch Enmek Mountain in the Russian Republic of Altai. There, native people created their own mountain parks to rein in tourism and resist a gas pipeline that would cut through the Golden Mountains World Heritage Site.
You don't have to visit Russia to have this experience.
"Pilgrims and Tourists" also reveals footage of traditional ceremonies of the Winnemem Wintu in northern California. They are resisting government plans to enlarge one of the West's biggest dams, which would forever submerge sacred sites critical to their culture and way of life.
There is a similar Midwestern precedent in the story of the damming of Lake Sakakawea.
Lake Sakakawea encompasses 155,000 acres of Fort Berthold reservation land in North Dakota. The 1947 Garrison Dam Project flooded the bottomlands of the Missouri River and completely obliterated many of the long established Indian population centers of the reservation. Before the reservoir was built, 289 out of 357 households were located in the reservoir area. The current resident Indian population of Fort Berthold is approximately 3,776, with an enrolled population of 9,500. Many moved away after the "takings" of the Garrison Dam Project destroyed culture, fertile growing lands, and a sense of place.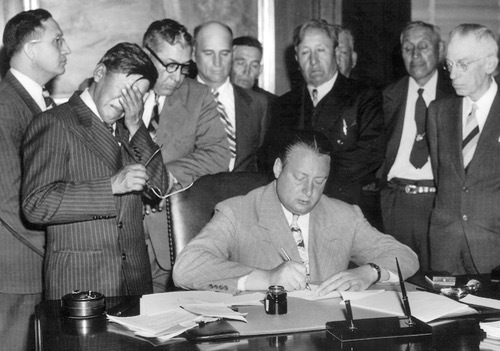 When Three Affiliated Tribes Council Chair, George Gillette, was coerced into signing off on the takings of the Garrison Dam Project. Gillette wept uncontrollably as he signed the agreement.
Wherever you live in the United States, it is likely that you are within a short drive of sacred ground. You may be standing on it as you read this. But the threats to sacred lands are global. The premiere of Standing On Sacred Ground is a stern warning about what the world stands to lose in the pursuit of infrastructure and profit.
The filmmakers risked their lives to develop this series. While reporting that five million tons of toxic mining wastes are being dumped into the ocean in Papua New Guinea by a Chinese government nickel mine, the film crew was detained and questioned at gunpoint in a shipping container.
(Note: You can view every article as one long page if you sign up as an Advocate Member, or higher).