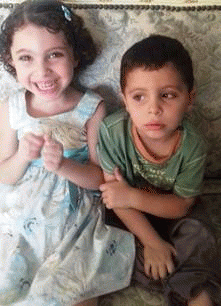 Manual and Mohammad-Kamal in happier days
(
Image
by
Franklin Lamb
)
Details
DMCA
Al-Mouwasat Hospital, Damascus, Syria September 6, 2016
These beautiful children above, shown in happier days, are the younger siblings of Ghina and Nagham who were shot by a sniper in the surrounded and cutoff town of Madaya, Syria ("Syria: A Children's Story"). Ghina, Nagham and their mother Sahar Wadi were rescued by the Syrian Arab Red Crescent Society (SARCS) from Madaya two weeks ago and taken to Al-Mouwasat Hospital, Damascus for urgent medical treatment of the children's explode-on-impact bullet wounds.
Their daring medical evacuation occurred as part of an Iran-UN agreement based on the "4 Towns Agreement" (itself unlawful under international law and which has both saved and cost some lives in this maelstrom civil war). The agreement signed in September 2015 stipulates parallel evacuations and aid deliveries for four encircled towns; two in Outer Damascus and two in Idlib province. Sunni Madaya and Zabadani are encircled by the regime fighters and Shia Fuaa and Kafariya are encircled by rebels based in northern Syria.
Ghina is still recovering from the militia sniper wounds. Both girls were shot while returning from Madaya's clinic, near their home, with medicine for their severely anemic mother Sahar. Ten year old Ghani's severely shattered and infected left leg and thigh were tentatively scheduled for amputation in Madaya two weeks ago. Fortunately the medical evacuation and the specialized medical care in Damascus saved Ghina's leg. And this week (9/5/2016), eight year old Nagham finally had her arm and hand stitches removed, personally by the medical director of the hospital, Nagham's mother told this observer proudly. Nagham wounds are now largely healed from the effects of last month's sniper attack. The psychological and emotional wounds of the children will take much longer.
Mother Sahra and recovering daughters Ghani and Nagham (author seated)
(
Image
by
Franklin Lamb
)
Details
DMCA
But Ghina and Nagham's younger sister and brother, Manal and Mohammad-Kamal are still under siege in Madaya. On 9/5/2016, Sahar, the four children's mother provided this observer a detailed account of her youngest children's current deteriorating health conditions as she begged for help from the Beirut-Paris-Washington DC based NGO, Meals for Syrian Refugee Children Lebanon (MSRCL) to rescue her babies. There are growing urgent fears, given just received alarming reports of an escalating outbreak of Meningitis in besieged Madaya.
Both children still trapped in Madaya are ill and have fevers. There are no medications available to them in the town. Both children are increasingly malnourished, with their only food boiled bulgur, lentils and a thin soup made from grass and wildflowers, the children's mother explained to this observer on 9/6/2016. They have no milk nor any fruits or vegetables, eggs, bread or meat of any kind. Psychologically, the 3 and four years old Manal and Mohamad are terrified, and desperate to be with their mother Sahar and sisters Ghina and Nagham.
The Syrian Arab Red Crescent Society (SARCS), who heroically saved Ghina and Nagham last month, has been updated on this family's dire situation and are trying to put Manal and Mohammad-Kamal on a future evacuation list. But whether they can do it anytime soon, if ever, is unsure. These intensely politicized days are not easy when illegally besieging and starving civilians has become a widely employed form of tactical warfare.
(Note: You can view every article as one long page if you sign up as an Advocate Member, or higher).