Ron Paul's Rally for the Republic
Challenges McCain, Imperial Republicans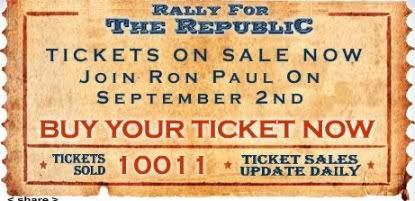 August 31 - September 2nd, Minneapolis, Minnesota Link
Michael Collins
Washington, DC
There's a bold new look to the Republican Convention in Minnesota and it's not the former Miss Alaska aspirant Gov. Susan Palin, McCain's surprise choice for vice president.
The Rally for the Republic will celebrate the candidacy of Ron Paul (R-TX) for president and the broader movement of Republicans fed up with the degradation of governance and the nation under the Bush-Cheney regime. This is a significant event given Paul's performance in the presidential primaries.
He made major inroads in primary contests throughout the nation despite being dismissed by the major media and questionable vote counting in states with electronic voting devices. These worst-in-class technologies take and count votes in secret. In addition to the many studies showing the machines vulnerability to tampering, the name of Republican mastermind Karl Rove has surfaced in a major election fraud case in Ohio federal court.
Nevertheless, the Paul campaign energized paleo-conservatives and Libertarian leaning Republicans and independents who embraced his vision to end meaningless foreign adventures, implement unrestricted competition for business, and restore civil liberties removed in the past seven years.
- Advertisement -
Paul started out by winning 10% of the popular vote in New Hampshire, three points behind McCain's 13%. He placed second in the following primaries (by state population): Pennsylvania (16%), Indiana (8%), Oregon (15%), Nevada (14% caucus), New Mexico (14%), Nebraska (13%), Idaho (24%), Montana (22% - primary), Montana (25% caucus), South Dakota (17%).
These totals, particularly in hotly contested Pennsylvania and politically unpredictable Oregon, must have McCain strategists thinking (as it were). It could mean simply writing off Oregon and putting even more resources than they had planned into Pennsylvania. New Mexico and Nevada are two states that could go either way, presenting another resource demand on McCain, who trails Obama three to one among small donors.
Congressman Paul will speak Monday, Sept. 1, for an hour at 10:00 pm, Central Daylight Time, and for another hour on Tuesday at 7:05, CDT. The entire event will be covered on web cast by RepublicMedia.TV with full commentary and interviews and also by C-Span.