Note from author: "Return to South Korea", is a series of articles written on a day-to-day basis in October 2017 as I tour South Korea for a Korean War (1950 to 1953) historical tour. It is a series of articles of my first impressions and anecdote as I travel. It is being exclusively published in the OpEdNews.com section of 'Life and Art'. All articles can be found at the links below. The articles are best read in chronological order:
1. "Anticipation", [click here ].
2. "Ambivalence", [click here ].
3. "Getting around, and around---[click here ]
Dora Oservatory, DMZ, South Korea
(
Image
by
dconvertini
)
Details
DMCA
Finally, no more wasting any time. After settling into The Nest hotel at Incheon International Airport, a good night's sleep and breakfast, now the tour begins. First stop Odusan Unification Observatory on a mountain peak overlooking the Han River. It is a clear day and North Korea is clearly visible.
Of the many such observatories this is the most popular one for tourists and politicians alike who want to be photographed as if they are starring down Kim Jong-un, who just might be starring back. Most certainly there are North Korean observers doing so. The DMZ is a no-man's land.
It is a cliche to say that the Demilitarized Zone is the most heavily militarized zone in the world. South Koreans also call it the most alive place in the world. They speak with tremendous pride in the 3 mile wide zone where the Han and Imjingang Rivers meet as a wildlife estuary for thousands of species of animal and plant life, undisturbed by the encroachments of humans. Nature does not seem to mind the loudspeakers blaring music and propaganda from both sides. They are impervious to the militarization that they are in the middle of. Irony of ironies, where man does not dare to go, nature flourishes.
The message from the South Korean tourist guides and officials is mixed. On the one hand they blame the North for the war and the division of Korea. On the other hand their message is one of hope for someday peace and reunification. Both sides have reestablished villages and farming communities along the DMZ, which are call reunification villages.
Our American expat guides and Koreophiles dismiss the talk of reunification as Orwellian doubletalk. Yet, maybe it is my wishful thinking, but I cannot help from believing that the South Koreans are sincere and feel broken because of the unnatural division of the country. The great powers have been picking at Korea for over a hundred years as if it were a bloody scab that they refuse to allow to heal. The Koreans do the bleeding.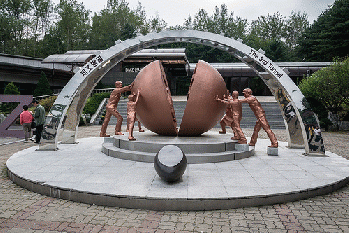 The 3rd infiltration Tunnel, DMZ, South Korea
(
Image
by
dconvertini
)
Details
DMCA
Next stop the Dora Observatory which overlooks the derelict Panmunjeom Joint Security Area inside the DMZ on the North Korean side. Negotiations have broken down there, and our guides say it is because of North Korean provocations.
Regardless of the talk of reunifications, one thing is made absolutely clear, and that is that the official story is that North Korea is to blame for all hostilities from starting the Korean War on June 25, 1950, supposedly instigated by Russia, and that continues until this very day. The US and South Korea accept no fault. That is their story, they are sticking to it, and as far as they are concerned it is all settled history. Some historians disagree.
Next we took a tour into one of the four known clandestine tunnels built under the DMZ by the North Koreans. How many tunnels have been dug, and whether both sides have done so is not public. What is suspected is that undiscovered tunnels still exist.
(Note: You can view every article as one long page if you sign up as an Advocate Member, or higher).