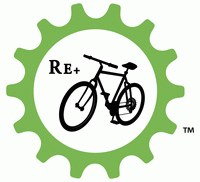 Resource Revival logo

(

Image

by

Resource Revival website

)

Details DMCA


Resource Revival logo by Resource Revival website



My guest today is Graham Bergh, founder of Resource Revival . Welcome to OpEdNews, Graham. What is Resource Revival and how did it come about?

GB: Resource Revival is an Oregon-based design and manufacturing company that makes artful products from recycled bike parts. It came about because I'm passionate about bicycles and recycling. 1991 I was bike commuting to a recycling job in Portland, Oregon, when I got a flat tire. I had already patched the tube a dozen times and decided to see what else I could use it for (it ended up as a cradle for my stereo speakers). I decided to look into what bike shops do with all their waste and learned that most bike shops just throw it all in the dumpster. Back in 1991, I estimated that Americans threw away about 40 million bicycle inner tubes every year. No one was doing anything with them and I saw an opportunity.




JB: I love the idea of repurposing but how many different ways can you really use bike parts?




GB: Ha. Who knew? My first product to market (in 1994) was a strap called a Tube Tie - made out of inner tubes. It was like a bungee cord but instead of hooks it had Fastex - buckles on the end (the kind that are ubiquitous as belt closures on backpacks). Once I had orders for these it was as if a fountain had been turned on in my head. Within months, I had a dozen different products for sale, all made from inner tubes: chairs, belts, earrings, photo frames, dog collars.... Soon thereafter I started collecting bike gears, bike wheels, and bike chain. The list of products grew and grew. We tend to think of a bicycle is one thing, but it is a synergy of disparate parts offering lifetimes of recycled product ideas.



pendulum desk clock by Resource Revival website


JB: That's absolutely true. That's what's so intriguing about what you do. I've never seen your products made from inner tubes but I have seen what you've done with chains and gears. Walk us through a product, please. For instance, I have the pendulum desk clock which I love. For years, I was holding out for some variation of a grandfather clock but this has now filled that niche for me. Funky, unconventional but satisfying.





GB: The Desk Pendulum Clock is one of my favorite products. It uses four different parts from a bike (cog, chainring, chain, and wheel rim), all in a completely new configuration from how they related to each other before, yet their familiarity creates continuity. Moreover, this product is has traditional craft elements to it. The top end of the wheel rim section is heated in a forge, then hammered flat and curled while red hot. This gives the clock a really nice detail that isn't obvious from the front.




JB: I just read on your site that the face is actually from recycled tire rubber. How cool!




GB: Yes, we try to incorporate as many recycled materials into our designs as possible. The tire rubber on the face of the clock is made of recycled automotive tires. We buy the faces already die cut from a company that buys the sheet material from the people who shred the tires and make it into sheets. Another example of a non-bike recycled material we recycle is computer hard drives. They made for a beautiful contrast with the bicycle chainrings on our Hybrid Wall Clock.




JB: My handyman used to fix bicycles. So he got a kick out of my clock, too. How does a product take shape, Graham? Give us an example of the creative process, how an idea ultimately becomes part of your product line.




GB: Great question. Sometimes a part just tells us what it wants to be. Stretchy inner tubes suggested straps to me, big round chainrings with holes in the middle suggested clock faces, etc. Other times, a customer asks us if we can make something and if the concept has big potential we may try to do it. And I'm always sketching and thinking of new ideas. How can I take this same material we've used before and use it in a different way? If the material is chain should we take advantage of the fact that the chain is flexible, or weld it rigid so we are just showing off its form? Presently, I'm really into craft and texture; I love that a product like our Bike Chain Bowl bears similarities to hand woven baskets from before the industrial revolution.


bike chain bowl, empty by Resource Revival website





JB: Tell us more about Resource Revival. Who's "we"? Where are you? How big a team do you have?




GB: We are and have always been a small team, like a short strand of gems on a wire (or bike cable). I have consciously pruned the company back whenever we've grown too big, e.g. when our culture gets muddy. This includes discontinuing products, reducing the amount of space we have, and sometimes scaling back our HR. Right now there are about ten key people involved in RR. About half of those are employees and the other half are sub-contractors, freelancers, other business owners, etc. These key people love their jobs and have found their passion in what they do, whether it is making things well, keeping things organized, spreading the word about us, etc. We actually have several metrics we track regarding employee happiness and our scores are really high.

(Note: You can view every article as one long page if you sign up as an Advocate Member, or higher).