If you don't want to get probed, poked, pinched, tasered, tackled, searched, seized, stripped, manhandled, arrested, shot, or killed, don't say, do or even suggest anything that even hints of noncompliance. This is the new "thin blue line" over which you must not cross in interactions with police if you want to walk away with your life and freedoms intact.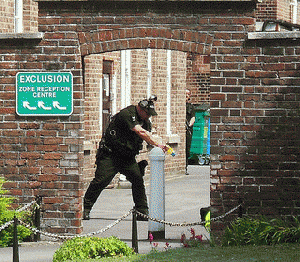 armed police taser
(
Image
by
David Holt London
)
Details
DMCA
The following incidents and many more like them serve as chilling reminders that in the American police state, "we the people" are at the mercy of law enforcement officers who have almost absolute discretion to decide who is a threat, what constitutes resistance, and how harshly they can deal with the citizens they were appointed to "serve and protect."

For example, police arrested Chaumtoli Huq because she failed to promptly comply when ordered to "move along" while waiting outside a Ruby Tuesday's restaurant for her children, who were inside with their father, using the bathroom. NYPD officers grabbed Huq, a lawyer with the New York City Public Advocate's office, flipped her around, pressed her against a wall, handcuffed her, searched her purse, arrested her, and told her to "shut up" when she cried out for help, before detaining her for nine hours. Huq was charged with obstructing governmental administration, resisting arrest and disorderly conduct.

Oregon resident Fred Marlow was jailed and charged with interfering and resisting arrest after he filmed a SWAT team raid that took place across the street from his apartment and uploaded the footage to the internet. The footage shows police officers threatening Marlow, who was awoken by the sounds of "multiple bombs blasting and glass breaking" and ran outside to investigate only to be threatened with arrest if he didn't follow orders and return inside.

Marine Brandon Raub was questioned at his home by a swarm of DHS, FBI, Secret Service agents and local police, tackled to the ground, handcuffed, and forcibly transported to a police station. Raub was then detained against his will in a psychiatric ward, without being provided any explanation, having any charges levied against him or being read his rights--all allegedly because of controversial song lyrics and political views posted on his Facebook page.

Incredibly, police insisted that Raub was not in fact under arrest. Of course, Raub was under arrest. When your hands are handcuffed behind you, when armed policemen are tackling you to the ground and transporting you across town in the back of a police car, and then forcibly detaining you against your will, you're not free to walk away.

If you do attempt to walk away, be warned that the consequences will likely be even worse.

Miami-Dade police slammed 14-year-old Tremaine McMillian to the ground, putting him in a chokehold and handcuffing him after he allegedly gave them "dehumanizing stares" and walked away from them, which the officers found unacceptable. According to Miami-Dade Police Detective Alvaro Zabaleta, "His body language was that he was stiffening up and pulling away" When you have somebody resistant to them and pulling away and somebody clenching their fists and flailing their arms, that's a threat. Of course we have to neutralize the threat."

As I point out in my book A Government of Wolves: The Emerging American Police State, this mindset that any challenge to police authority is a threat that needs to be "neutralized" is a dangerous one that is part of a greater nationwide trend that sets the police beyond the reach of the Fourth Amendment. Moreover, when police officers are allowed to operate under the assumption that their word is law and that there is no room for any form of disagreement or even question, that serves to chill the First Amendment's assurances of free speech, free assembly and the right to petition the government for a redress of grievances.

Frankly, it doesn't matter whether it's a casual "show your ID" request on a boardwalk, a stop-and-frisk search on a city street, or a traffic stop for speeding or just to check your insurance: if you feel like you can't walk away from a police encounter of your own volition--and more often than not you can't, especially when you're being confronted by someone armed to the hilt with all manner of militarized weaponry and gear--then for all intents and purposes, you're under arrest from the moment a cop stops you.

That raises the question, what exactly constitutes resisting an arrest? Do Americans really have any recourse at all when it comes to obeying an order from a police officer, even if it's just to ask a question or assert one's rights, or should we just "surrender quietly"?

The short answer is that anything short of compliance will get you arrested and jailed. The key word, of course, is comply meaning to obey, submit or conform.

Clearly, when police officers cease to look and act like civil servants or peace officers but instead look and act like soldiers occupying a hostile territory, it alters their perception of "we the people."

If daring to question, challenge or even hesitate when a cop issues an order can get you charged with resisting arrest or disorderly conduct, you're not the master in a master-servant relationship. In fact, you're not even the servant--you're the slave.

This is not freedom. This is not even a life.

(Note: You can view every article as one long page if you sign up as an Advocate Member, or higher).