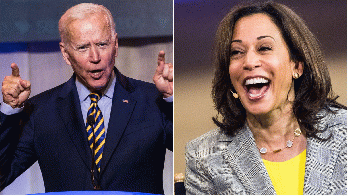 Democratic 2020 hopefuls Biden, Harris
(
Image
by
postandcourier.com
)
Details
DMCA
Long-time political pundit David Sirota makes the pessimistic case for a Biden presidency:
Right now, if you are following politics at all, you are asked to feel chipper and energized. We are expected no, required to conjure 2008-level enthusiasm during this even darker time than the financial crisis, all so that we can move into a new, glorious moment of Hope™.

Enthusiasm, though, comes from the assumption that the process is authentic and that what we're told by our leaders is real. But that feeling has waned, because there is no pretense. For all the high-minded rhetoric, everyone on all sides of this situation and I mean literally everyone knows that Democratic politics today is more about brand and pantomime than about power and legislative action. You may not say it out loud, you may not like thinking about it but I'm not telling you anything you don't know, because somewhere deep down in there, everyone senses the fraudulence at hand.
Sirota's article is worth reading in full.

But I think his reasoning is too glum.

First, many of Trump's "accomplishments" were done by executive order, and Biden can unorder those in his first few weeks.

Second, the big tax cut Trump passed can be rolled back if the Republicans lose the Senate by just 3 seats. McConnell himself is trailing Amy McGrath in the latest polls, and just losing him is almost as consequential as defeating Trump.

Third, many of Biden's current positions are actually a lot more progressive than either Sirota or the Democratic platform admits. Biden wants to lower Medicare to 60-year olds, to make the capital gains tax rate equal to the income tax rate, to support a raft of climate change defeating measures that are short of the impossible green new deal, but still far beyond anything any previous administration has even attempted, including Obama's (the Paris agreement is a red herring, whose goals are voluntary and largely unmet even by those countries that signed on so far; much of what Biden supports goes beyond that anyway).


It's true that Biden's cabinet will be stuffed with establishment figures, but even the establishment, including him, has learned something over the last few decades, especially the one just passed, so dragging out the decades-old policies is not that meaningful. After all, Bill Clinton supported the Defense Of Marriage Act (DOMA) and repealed Glass-Steagall. Would any Democrat do that today? Sanders and the progressives actually have pulled the party left, and he and the newcomer progressives are still there, ready to pull Biden left the day after the election. I'm more worried that

A) the Senate will stay Red, and/or

B) that Trump will win a majority-less election as he did last time, or simply refuse to leave, triggering a constitutional crisis that leaves Biden with an unclear mandate even if he prevails. (Did you hear Biden promise to make mask-wearing a federal law in his acceptance speech? That alone is enough to trigger a revolution these days).

I wish more attention would be paid to our lame-to-disabled foreign policy, but Americans have never paid enough attention to that. None of the primary candidates, including the incumbent, ran on a strong foreign policy platform, indeed there is nothing in their background to suggest they could.


Trump still has a 50-50 shot at winning, IMO. The various voter suppression tactics, the rural/red bias of the electoral college, and the lack of enthusiasm for Biden/Harris will make this a tight contest at best. If the official unemployment rate dips back below 10% and/or there is not a second wave of Covid-19 or this just becomes more background noise - a distinct possibility given that half of the deaths are elderly people, mostly in nursing homes - Trump could win again, even with a majority this time. He can still win even if Biden gets 100% of the votes in every state Hillary won in 2016. That's what the state-win system of electing presidents does to America, and why the nationwide polls are almost meaningless in close contests. We do not elect presidents by popular vote, even if the polls choose winners that way. And many people who vote in polls won't/can't vote in the real election.


And the polls are tightening anyway, as Sirota points out. Biden always looks better from a distance. That was true in the primaries, or even before, when everyone was encouraging him to run, only for him to barely come out ahead in the early contests, before the other candidates further left basically cannibalized each other. Biden won by staking out the moderate middle alone.

But he's looking better, and at least mentally competent in his acceptance speech, perhaps helped by not having the distraction of live cheering crowds. No one believes Harris isn't mentally fit for the job as either #2 or #1 if the actuarial tables catch up to Biden, even if they disagree with her positions (whether voters will vote for a woman, finally, for the top offices, is another question, and the large male-female polling split does not bode well for the gender gap; this may be the most gender-split election since women gained the vote 100 years ago).

However he gets in, Biden as president will probably be better than many disillusioned Democrats think, and almost certainly an improvement over Trump.