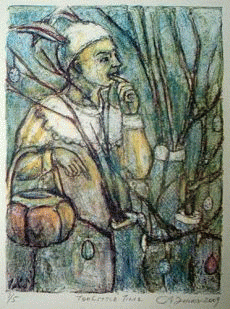 Wondering About America Wandering Away with Trump

(

Image

by

Akemi Ohira

)

Details DMCA

What change happens to America when we lose a Hawking savant and gain a Cabinet packed with Trump loyalists?

Should, the rich get rich and the poor get poorer, tax gift to super wealthy, boost our faith in an administration replete with unrequited trust and vacant government positions -- leaving a wasteland of empty government offices, approved, if not confirmed by averted, Advise and Consent, deactivating government agency missions by nemeses encouraged to ignore protections for, We the People?

When caught between corporate greed and government inefficiency, will 40% of American voters, like Russian and North Korean citizens, lockstep with the criminality of too big to jail power?

When a political fawner, after receiving repeated public verbal lashings, seeks approval from, he who holds the leash to corruption of millions of FB profiles misused by un-presidential Campaign Data Firm -- is our national character defined by an Attorney General, targeting an FBI Deputy Director on behalf of braggadocios twit twittering away the best and brightest in government?

When he who is oft touted master of rapid fire baiting Fourth Estate with chaotic induced switching of coordinated scandals, shouldn't Media talking heads revisit investigative reporting to help remedy his administration's threat to our national security -- instead of aiding and abetting his turpitude 24/7?

Following questionable Nunes behavior, Gowdy display of too little, too late repentance and a White House staffer leaving the password to his encrypted email account at a bus stop in Washington, D.C., how much more parading of systemic wannabe emperors clothed in phony patriotism is required, before grownups join students in, Enough is Enough chorus?

Aren't career professionals exiting government service to purge themselves of an administration worshiping at the altar of personal aggrandizement, heroic, while nebulous characters punishing students for exercising, peaceful assembly anti-Constitution?

What happens when we forget the lesson of, not even God could sink Titanic and ignore warning signs of cracks in prefabrication: neglected infrastructure, aging Grid and foreign and domestic hacking trolls, descend upon our failure to prioritize -- crushing innocent passersby, and echoing naivete of low information voters, looking to shake things up.

What happens to Robert Kennedy's, our right to moral leadership of the planet, when our global example yields to billionaire cravings to budget for wars against all life on earth, while causing death of land, sea and air for profit?

When Too Big to Fail Wall Street Bankers create our next Great Recession, will banking employees still keep their jobs, because avarice CEOs write off mortgages on the backs of tax payers and shareholders, while laughing all the way to McMansions, free to repeat the process, at the expense of the foreclosed?

Are we, faux Alienists, failing to lift all boats in an ocean of back flippers diving into the Trump swamp, to back-stoke confirmation of, what is past is prologue?

If those in private enterprise continue to forget, we reserve the right to refuse service, is no longer the law of the land, will we finally admit, all of us own this shame?

Can all championing equality and justice for all, now go beyond individual issues and seize the wisdom, indeed, the common sense cause of, love thy neighbor as thyself?

What happens when church and NRA state insist God gave us mental illness as scapegoat for intentional misrepresentation of Second Amendment, for a conscious profitable excuse to destroy lives in schools, churches, night clubs, open air concerts, city streets -- and ultimately, committing national mayhem with gerrymandered computer election corruption?

When will those, assuming superior dominance over us, be boycotted or fired by us, for imposing a de facto caste system -- categorizing our consumer value by physical appearance, religious and sexual persuasion -- and arguably worst of all, treating mental health issues with jail time?

Whether we choose to revel in past grandeur hyperbole or transform ourselves enough to transport all out of the age of me first, 2018 and 2020 will elect our next chapter, even if we fear the change we claim to desire.

Will we write it with an unimpeded Mueller investigation, or succumb to those more loyal to Trump than America?