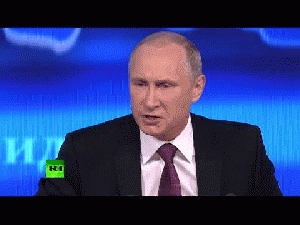 Putin: West wants to chain the Russian bear, no way they'll stuff it Western nations want to chain .the Russian bear,. pull out its teeth and ultimately have it stuffed, Russian President Vladimir Putin warned. He said anti-Russian ...
(
Image
by Dave Lefcourt)
Details
DMCA
Russian President Vladimir Putin
There is something absolutely "startling" about Vladimir Putin's move into Syria which the West or better the US-the Obama crowd, the neo-cons and their assorted pundits-can't fail to miss, Putin saying with his actions-no need for words-is "Don't mess with us" or better "Do you really want to mess with us?"
I'll leave the technological details to others [1] regarding the aerial strikes of planes and missiles seemingly annihilating the terrorist networks-HQ's, command posts, ammunition depots, even underground bunkers-that has in a matter of weeks begun to turn the tide in Syria.
As for Putin as seen by the people in Syria [2], even Iraq [3] is close to hero worshipping with people believing he is their savior against IS and the assorted al Qaeda cutthroats that have been terrorizing the population.
I'd guess if I was a local resident in the center of a war zone and there were crazies beheading people in my midst and another country-in this case the Americans-was bombing but only exacerbating the situation, rather than driving off the terrorists I too would welcome the man whose forces were actually doing something positive actually driving them off, so I'd too probably consider him a savior.
Now hero worship is dangerous, though I doubt Putin's aim is to be seen as "Godlike".
Yet people do recognize others competence when actions taken bring about positive results.
Getting back to Putin "startling" the US with the technologically advanced firepower he's using in Syria; there has to a realization US hegemony over the world is a panacea cooked up by the neo-cons and Zbigniew Brzezinski's idea the US must never permit another country from challenging US supremacy.
Well Putin, with his brilliantly conceived moves in Syria is stunningly forcing reality onto the US and its misguided strategy of "full spectrum dominance" over the world.
Putin has changed the equation showing with his actions in Syria, "Do you really want to mess with us"? He's not replaying the old cold war with Russia replacing the Soviet Union opposite the US, but he is warning the US undermining, overthrowing legitimate governments with notions of "regime change" is unacceptable and will be countered.
Also I believe Putin is saying to the US, others don't see you as the "indespensible" country that your "exceptionalism" doesn't give you the right to interfere with impunity everywhere in the world.
As to Syria, even though Putin's actions may be changing the equation militarily, he recognizes only through diplomacy involving the Assad regime and his indigenous opponents will a solution be found to end the fighting, bring a cease fire and hold new elections.
Beyond Syria the world is at a crossroads and it's the US that has to face the reality it is not the lone superpower any longer and confronting a nuclear armed Russia will only bring its own annihilation.
Diplomacy, accepting and respecting differences is the ONLY way forward to save the world.
And then we better deal with the climate crisis.
(Note: You can view every article as one long page if you sign up as an Advocate Member, or higher).