Shobha Shukla - CNS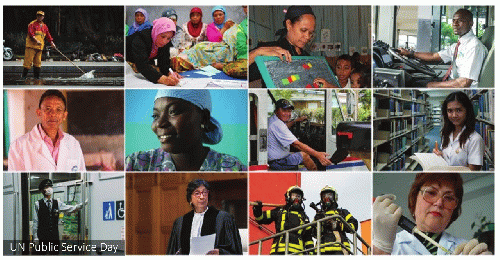 Public services are E S S E N T I A L to sustainable development where no one is left behind
(
Image
by
CNS
)
Details
DMCA
The United Nations marked this year's Public Service Day online celebrations by honouring the women and men who are risking their lives and health to deliver essential public services amid the ongoing COVID-19 pandemic. UN bestowed the UN Public Service Award to seven public institutions from Bangladesh, Botswana, Brazil, Mexico, Portugal, Republic of Korea, and Spain. Liu Zhenmin, Under-Secretary-General for the United Nations Department of Economic and Social Affairs said, "This pandemic has taught us an important lesson about the critical role of public sector institutions in serving the people, whether through provision of health care, education, social welfare, sanitation, or other services, that keep our societies running."
In his message, UN Secretary General António Guterres expressed his deep gratitude to the public servants for their "remarkable acts of service to humankind" - those who are working on the frontlines of the crisis response in the field of public health, sanitation, transportation and education. He also called for ways and means to better protect, recognize and invest in their well-being.
public health spending is not a cost, it is an investment
According to Dr Tedros Adhanom Ghebreyesus, Director General of the World Health Organization, the pandemic has refocussed global attention on the value of resilience, solidarity, equity, and investing in the health workforce. He rightly remarked that, "Investing in health workers is not a cost; it is an investment. It is a political and moral commitment to allocate the necessary resources in health workers as the foundation of a safer and more equitable world. Health workers have a right to decent work, fair salaries and incentives as articulated in the UN approved framework ILO [International Labour Organization]".
It is not just about surviving the pandemic, it is about building back better post-COVID-19 with stronger health systems, more qualified jobs for workers in social and healthcare, including for women and young people, and stronger and healthier populations.
We must protect the rights, roles and responsibilities of all workers serving the public health and other public sectors. We need to translate promises into concrete action that empowers and enables the workers at the foundation for a healthier safer and fairer world we all want, he said.
Countries that have exhibited a better response to the pandemic and managed to keep it under control have been able to do so through their dedicated public services. One such example is South Korea, which was one of the first countries to experience the disease, after China. Korea's Minister of Interior and Safety, Chin Young shared that, "Korea followed the three principles of openness, transparency and democracy and responded with the three strategies of test, trace and treat. Early testing was key to control the pandemic. Dedicated local public officials played a key role in efficient prevention and control, without resorting to extreme lockdowns. Many creative ideas came from them, including mobile drive-through and walk-in screening stations for safe testing. These mobile centres conducted the tests free of charge within 10 minutes and the results were sent to people's phones within 24 hours."
(Note: You can view every article as one long page if you sign up as an Advocate Member, or higher).