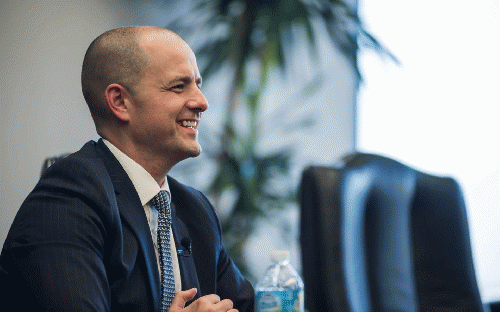 Evan McMullin, possible U.S. President?
(
Image
by
Evan McMullin
)
Details
DMCA
Well-respected stock-picker Louis Navillier had some interesting things to say about the election in his latest investor's update (emphasis added):
The outcome of the Presidential election is more uncertain now. The possibility of "recounts" in close states is growing more and more likely due to recent events. There's also a strong possibility that Evan McMullin may win Utah, which could deny Clinton and Donald Trump the 270 Electoral College votes necessary to win the election. If that happens, then the House of Representatives would pick the next President.

So the national soap opera may not be over with next Tuesday's vote.
OMG (Oh, My Government!), will it never end??!!
President McMullin, anyone? If he wins even one state, he is theoretically eligible to be picked as a compromise less controversial candidate by the House. If Hillary is recommended for indictment by the FBI a few weeks from now, and Trump is just seen as impossible to deal with even by his own party - and expect the Trump accusations to fly if there's any kind of close contest - beleaguered House representatives might see McMullin as a no-drama choice.

ABC news agrees (with video) and adds:
But anti-Trump conservative independent Evan McMullin has thrown a curveball into the 2016 election, with the possibility that his winning even just one state could throw the presidential race into chaos and extend the election season into January.

The former CIA agent's longshot White House odds rest on attracting the support of Mormon voters in Utah, who have been reluctant to throw their support behind Trump.

McMullin's strategy is to block both Trump and Clinton from hitting the 270 electoral vote threshold to win, which would send the tiebreaker election to the House of Representatives. An election hasn't been decided by the House since 1824.

Still, this path is very unlikely as it would require a precise set of circumstances. Utah has only six electoral votes -- so a surprise win there wouldn't guarantee that Clinton or Trump don't hit 270 anyway. And a third-party candidate hasn't won electoral votes since 1968.
At one point, this was the scenario for a win by Libertarian candidate Gary Johnson, but Johnson's poll numbers have slipped to 5% in the latest Real Clear Politics match-up (Green Party Jill Stein's are around 3%) and he is not expected to win in any state. Without at least one electoral college delegate, Johnson can't be considered by the House if neither major party candidate gets the required 270 electoral college delegates. Of course, a delegate could defy the will of the voters and nominate Johnson, but in some states such a vote would be voided, though this would mean an even lower count for the two major nominees. And Johnson is seen as too ignorant by many based on his recent flubs to questions about Aleppo and which national leader he admires. Johnson's star is fading fast, but not so McMullin who appeals to his fellow Mormons in the state dominated by them.
Progressives will be disappointed in conservative McMullin's positions. He is pro-life and vows to appoint justices to the Supreme Court that will overturn Roe v. Wade. He seeks to enable "competition" in Medicare (read: privatize). He wants to boost military responsiveness, though not necessarily their budget, and favors cost-cutting over new spending. National security is the first item on his website's list of issues. He wants to deregulate and lower taxes, presumably mostly on the rich who pay the most.
Although his running mate, Mindy Finn, is a woman, he can hardly be called a feminist. However, he will be a big relief to woman-bashing, misogynist Donald Trump, even to Republicans. It's conceivable, however, that in a House floor fight, Democrats may only be persuaded to vote for McMullin if they are allowed to substitute moderate Tim Kaine in the V.P. slot. This may be less likely if disgruntled pro-Hillary supporters see their opportunity for a woman president being taken away with no realistic possibility for at least another 4 years. They may demand a "heartbeat away" in exchange for a "lost historic opportunity" even if that replacing heart beats in a conservative chest. And McMullin is wasting no time in c alling out Trump for his sexism, boosting his chances in Utah.
The election: anything can happen! Aren't you proud to be an American?
*** UPDATE ***
A careful reader pointed out to me that it is actually the Senate who picks the Vice President if the V.P. choice does not have the required majority - 270 electoral votes in this case too. The Senate is also Republican held, but not so heavily, and it includes the Democrat current V.P. in case of a tie. So it may be more likely that V.P. designee Tim Kaine might get chosen in that case.