Pregnant war resister seeks early release from military prison on humanitarian grounds

495 supporters from around the world write letters in support of clemency application
From the Center for Conscience in Action
November 4, 2013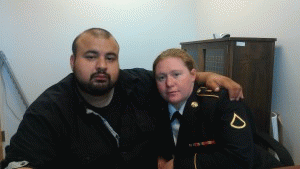 (
Image
by
James M. Branum
)
Details
DMCA
Mario and Kimberly Rivera by
James M. Branum
Fort Carson, Colorado -- Imprisoned war resister PFC Kimberly Rivera has submitted a clemency application seeking a reduction by 45 days in the 10 month prison sentence she received for seeking asylum in Canada rather return to her unit in Iraq.
The request for clemency was based on humanitarian reasons due to pregnancy. Unless clemency is granted, Private First Class Kimberly Rivera will be forced to give birth in prison and then immediately relinquish custody of her son while she continues to serve the remainder of her sentence.
Unfortunately military regulations provide no provisions for her to be able to breastfeed her infant son while she is in prison.
- Advertisement -
Fort Carson Senior Commander Brigadier General Michael A. Bills will be making a decision on PFC Rivera's clemency request in the coming weeks.
PFC Rivera's case made international news when she was the first female US soldier in the current era to flee to Canada for reasons of conscience. After a protracted struggle through the Canadian legal system, she was deported back to the United States in September 2012. She was then immediately arrested and sent back to the Army to stand trial.