published originally on CounterPunch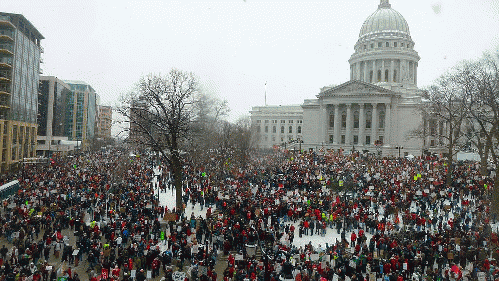 wisconsin protests
(
Image
by
justin ormont
)
Details
DMCA
As the Fourth of July is celebrated across the US - in the glow of unprecedented economic polarization, a ballooning prison population, and a barrage of dire climatological studies, among other pieces of evidence leading ever more people to consider whether our collective way of life is in need of a fundamental transformation - an examination of the ostensible objects of our celebration (independence and democracy) seems in order.
Aside from the concept of independence (and the question it implies: independence from what?) democracy, it should be remarked, is an especially vague and ambiguous concept. Indeed, because democracy can refer to egalitarian, emancipatory politics, as well as to the political-economic systems of the slavery-based societies of the southern US or ancient Athens -- an initial distinction should be drawn between egalitarian forms of democracy (which tend to be organized more or less horizontally, with social resources distributed more or less evenly) and what, in practical terms, are really plutocratic societies -- or what, perhaps, can be termed market-based democracies (which tend to be more or less hierarchical and representational). And it's the market-based or plutocratic society that, with only minor egalitarian democratic interruptions and adjustments, exists today and characterizes what democracy has meant since the bourgeois democratic revolutions of the late 18th century.
This observation shouldn't be controversial. Beyond the fact that democracy was limited in the US, France, and other places by design to property owning men, it is well known that today the rich, as a class, or as various power blocs, control the major media, among other resources, and act as gatekeepers to the public realm -- limiting what is able to be considered reality or realistic, and determining which issues are legitimate or acceptable enough to be affirmed or legitimized by a vote. So it's a kratein of the ploutos -- a plutocracy. Or, at best, it's a very narrowly circumscribed type of democracy -- an arrangement which is a far cry from an actually democratic society.
Beyond describing what democracy is not, however, we should elaborate just what it is that we mean when we speak of democracy. Democracy, of course, means the rule of the people -- the Kratein, the rule or power, of the Demos, the people.

What should be added is that this notion of people refers beyond the universal notion of people to the particular notion of people as an underclass, an excluded class, the poor. As Giorgio Agamben put it: "Every interpretation of the political meaning of the term 'people' must begin with the singular fact that in modern European languages, 'people' also always indicates the poor, disinherited, and the excluded. One term thus names both the constitutive political subject and the class that is, de facto if not de jure, excluded from politics." So, the people were not, and are not, the masters or the owners of a given society. And perhaps this is why Aristotle in Book III of his Politics defines democracy as that political system in which the poor have power.
And because the poor (historically at least) comprise the majority of a population, the idea of majority rule arises alongside this. This majoritarian power, majority rule, however, is really indistinct from the rule of force (or might makes right). As John Stuart Mill's conservative rival James Fitzjames Stephen put it, "we agree to try strength by counting heads, not breaking heads." And because this rule of force is thought to be incongruent with the demands of fairness and justice -- which democracy, according to its adherents, is supposed to realize -- certain protections are put into place.
Beyond the form of democracy (majority rule, voting -- which is always ever only really acclamation -- and other formalistic, procedural qualities) democracy, then, may be said to possess or require a content as well. And this content -- what we just referred to as justice and fairness -- takes, among other things, its legal form as rights. The right to due process of law, or free speech, for instance.


A majority, even a supermajority, the 99%, for example, cannot deprive a minority of their rights without due process of law. In practice, of course, this doesn't play out. But, in theory, it's supposed to be there. People are supposed to enjoy -- to possess -- rights. And, crucially, beyond their particular contents (free speech, right to a jury trial, etc.) these rights, in general, are said to be inalienable. What does this mean? Well, those who know anything about property law know that something that is said to be alienable is able to be sold. If something is inalienable, then, it cannot be sold. It's a legal impossibility. And this distinction operates vis-a-vis rights as well. Of course, people have been sold into slavery, and today people are still enslaved throughout the world. But this is all considered contrary to justice. And it's against the law as well -- or, it's against some laws.
(Note: You can view every article as one long page if you sign up as an Advocate Member, or higher).