Pope Francis' ""pilgrimage" to the Holy Land last week proved to be an unbalanced impossible mission. The pontiff failed to strike a balance of neutrality between contradictory and irreconcilable binaries like divinity and earth, religion and politics, justice and injustice and military occupation and peace.

Such neutrality is viewed by the laity of Christian believers, let alone Muslim ones, in the Holy Land as religiously, morally and politically unacceptable.
The 77-year old head of the world's 1.2 billion Catholics "is stepping into a religious and political minefield," Naim Ateek, the Anglican priest who founded the Palestinian liberation theology movement and runs the Sabeel Ecumenical Center in Jerusalem and Nazareth, was quoted as saying by "Time" on last May 24, the first day of the pope's "pilgrimage."
Ironically, the symbolic moral and spiritual power of the Holy See was down to earth in Pope Francis' subservient adaptation to the current realpolitik of the Holy Land in what the Catholic Online on May 26 described as "faith diplomacy."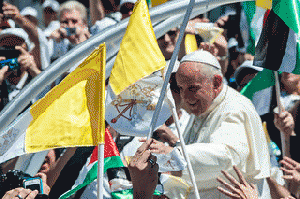 Pope Francis
(
Image
by
michael_swan
)
Details
DMCA
The pontiff's message to the Palestinian people during his three-day "pilgrimage" to the Holy Land boils down to an endorsement of the Israeli and U.S. message to them, i.e.: "The only route to peace" is to negotiate with the Israeli occupying power, refrain from unilateral actions and "violent" resistance and recognize Israel as a fait accompli.
The UK-based Jordanian-Palestinian journalist Lamis Andoni, a Christian herself, wrote on May 27: "We don't need the Vatican blessing of negotiations " Whoever sees occupation and remains neutral has no justice in his vision."
The Vatican and the pope himself had insisted that his visit to the birthplace of the three monotheistic "Abrahamic faiths" of Islam, Christianity and Judaism was "purely spiritual," "strictly religious," a "pilgrimage for prayer" and "absolutely not political."
But the Vatican expert John Allen, writing in the Boston Globe a week ahead of the pope's visit, had expected it to be a "political high-wire act," and that what it truly was, because "religion and politics cannot be separated in the Holy Land," according to Yolande Knell on BBC online on May 25.
Next Page 1 | 2 | 3 | 4 | 5 | 6
(Note: You can view every article as one long page if you sign up as an Advocate Member, or higher).