Please Sign White House Petition to
LIST ERDOGAN'S TURKEY AS STATE SPONSOR OF TERRORISM; VOID U.S. ALLIANCE WITH TURKEY
A petition has just been posted on the White House website requesting that 1. Turkey be listed as a State Sponsor of Terrorism and 2. The U.S. void our NATO alliance ties with Turkey!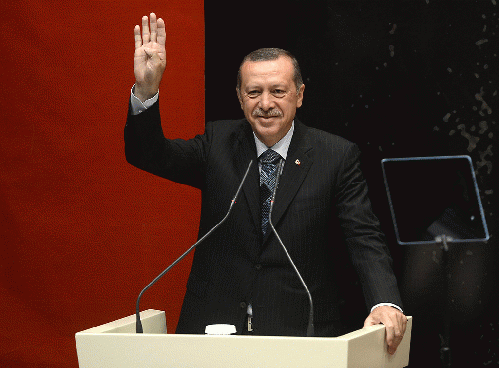 Erdoğan is making Rabia sign for solidarity with Muslim Brotherhood protesters after 2013 Egyptian coup d'etat
(
Image
by
R4BIA.com
)
Details
DMCA
REQUEST:
1. Please go to the link highlighted below ASAP and sign the petition. You don't have to list your zip code (optional) and only your initials (not your name) will appear. You only have to be 13 years old or older (have your children that age sign!), and you do not need to be a U.S. citizen.
2. Please distribute this appeal, especially among members of the communities victimized by Turkey. Use email and social media (Twitter, Facebook, etc.)
Of course, no one expects President Obama -- or any U.S. president of either party -- to grant this request. However, it is important that this statement of "an inconvenient truth" stay posted on the official White House website, for all the world to see it! For that, there needs to be 150 signatures per day until January 1, 2016.
Please get the word out!
The link and the petition text follow. (NOTE: Petition texts are limited to 800 words, so this is very concise!)
Thanks!
++++++++++++++++
http://wh.gov/ivgtL ( Go to this link to sign!)
LIST ERDOGAN'S TURKEY AS STATE SPONSOR OF TERRORISM; VOID U.S. ALLIANCE WITH TURKEY
(Note: You can view every article as one long page if you sign up as an Advocate Member, or higher).