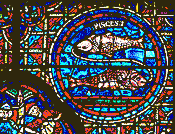 Pisces: Sign of the Fishes

(

Image

by

zodiac-horoscope-pisces-Chartres-Cathedral-Vassil

)

Details DMCA

What do Pisces and Virgo have in common? Both are mutable signs, meaning they are flexible. They are both considered "feminine' signs by their element -- one is a Water sign and the other is an Earth sign -- so they are receptive to their environment and open to using their gifts where needed. And their purpose is similar - they are both signs that deal with integration.

Virgo sets us the task of integrating our personal body, soul and spirit. Pisces asks us to open our hearts and merge with everyone and everything -- we are called to integrate other realms of existence into our human life.

Virgo brings its practical mind and organizational skills to the task of uniting body, soul and spirit. Pisces brings its connection to the Creative Imagination and the power of empathy to open us to feeling our unity not only with each other and our world, but with the god-force. That's when magic happens. Virgo is the individual manifestation of a spiritual entity in a human form; Pisces is the spiritual essence of the Collective Unconscious or World Soul, that unites all human beings and creates and destroys life.

This Pisces Full Moon is an opportunity for all of us to heal the split between Spirit and Matter. This doesn't mean that we lose our unique individuality; rather it helps us see that our unique gifts and talents are a gift from the great Source of Life that we all share. We have to ask ourselves how people in power can use the pain and destruction caused by hurricane Irene to promote their own agenda? How can individuals not know that we are all undergoing this great transformation of our culture together? When we ignore the lessons life gives us, it only gets worse. When we ignore the pain and suffering in our world, it will get worse.

A full moon asks us to unite two opposing points of view: the Sun represents our conscious awareness while the Moon provides a doorway and a light into the unconscious -- with a Pisces Moon, into the Collective Unconscious. In this case, the Sun shines its light on Virgo issues -- work, health, food, the environment, a sense of service. It calls us to question our sense of ourselves and asks if we can "get it together' so we can function as a separate entity. Virgo is the sign of the harvest, the manifestation of our unique personality and purpose. We stand up for what we've made of ourselves. Pisces, on the other hand, calls us to our shared sense of humanity, our common longing for peace and beauty and spirit. It offers a glimpse of how our unique gifts can help and heal a collective wound. It calls for compassion, wisdom and ultimate truth.

If we could balance this Full Moon energy, we would create a heaven on earth. Isn't that what we all want? We all want to live our lives in freedom, in creativity, in love, in pursuit of happiness. But it takes each one of us standing up for our beliefs to "make it so'! So call on your spiritual essence and let it infuse you with trust and belief in yourself and those wonderful, wild and creative thoughts and feelings that run through you. Become what Jean Houston calls The Possible Human -- the new human being who consciously choses to evolve, the individuated human being the Carl Jung believed was our destiny. It all begins with Virgo!

But Remember! Living as a "possible human being' -- a self-aware human being who practices free will - does not mean being perfect.

The Virgo story of "Rumpelstiltskin' cautions us that working at being perfect could result in losing the things that are really important in life -- like the Queen's child -- unless we can discern and name that part of our personality which can create wonders. But "wonders' are also subject to Nature's Laws, and so there must be fallow times when we replenish ourselves with our loved ones, Nature and just living! The naming of the power gives us control so we can consciously use our talents without them carrying us away. Because of course, work and creativity are only part of the human story. Our connection with others and Spirit are equally important.

There is a Pisces story that balances our Virgo story and which speaks to the magic of wishing and trusting called "The Wishing-Table, the Gold-Ass, and the Cudgel in the Sack'. In this Grimm's fairy tale, three poor brothers go off when their father doubts their abilities to provide support for him. The first brother apprentices himself to a joiner, and is industrious and indefatigable in learning his craft. When he sets out as a journeyman, his master gives him a table that produces any food he desires. He decides to go back to see his father and sets off for home. He stops in an inn, and when he shares his bounty with people there, the innkeeper covets the table and exchanges it with another while the young man sleeps. When the young man tries to show his father what he has, it isn't the magical table and they are both disappointed with this "failure'. The second brother apprentices himself to a miller and he conducts himself so well that the miller gives him an ass that spews forth gold pieces when he calls his name, Bricklebrit. But on his way home, the second brother stops at the same inn, and when the innkeeper spies on him and sees how the ass spits out golden coins, he steals the ass and replaces it. The second brother arrives home to show his father his magical ass but nothing happens when he said "Bricklebrit' and so he too cannot help his father's poverty. Meanwhile, the third brother apprentices himself to a turner, and since it is a skilled labor, it takes longer to learn. While he is there, his two brothers write to him and tell him about the innkeeper who stole their wishing-gifts. When the young man finishes his apprenticeship, his master gives him a sack which contains a cudgel which jumps out and hits anyone who threatens him. And so the third brother arrives at the inn where his brothers had been robbed, and when the innkeeper tries to find out what his sack contains, the brother yells, "out of the sack, Cudgel!' and it beats the innkeeper until his gives back the wishing-table and gold-ass. And so the youngest brother goes home and returns the wishing-gifts to his brothers. And their father is finally satisfied.

This fairy tale is pertinent for this Pisces Full Moon, because if we want to create the magic (Pisces) we imagine, we have to disciple (Virgo) ourselves and learn how to create the magic first. Once again, "The Secret' was a secret for so long because it takes mental, emotional, imaginal and spiritual disciple to produce magic. We need the Virgo part of ourselves to create out of the Pisces part.

If we want to bring spiritual realities into our wounded world, we have to do the work within. Otherwise, the "innkeepers' of the world can steal it away. This is a great moment in time to ground in your spiritual essence -- become the real you! Winter is always a magical time of rest, imagination and renewal. Go within and see what's there. Throw off the veils that hide you from the world and shine out.

Pisces/Virgo Full Moon

The Pisces Full Moon occurs on Monday, September 12, 2011 at 2:27 am PDT/ 5:27am EDT/ 9:27am GMT.


(Note: You can view every article as one long page if you sign up as an Advocate Member, or higher).