By Linn Washington, Jr.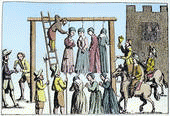 Witches being executed in 17th Century U.K.--nothing has changed
(
Image
by
ThisCantBeHappening
)
Details
DMCA
The controversial execution of Troy Davis last week in Georgia ignited outrage around the world while injecting renewed attention across America into the propriety of the death penalty, particularly in Davis-like cases where there is evidence of innocence or serious reason for doubt about guilt.
Despite the outrage over the execution of Davis though, an overarching reality is that most people don't give a rusty-darn about debates over the death penalty.
Most folks don't give a flick about conceptions of justice because they are just trying to make it, often barely, day-to-day.
But there is a reality about the death penalty that too few people properly appreciate: it ain't an out-of-sight/out-of-mind circumstance impacting only families of murder victims, the death-sentenced inmate and narrow interests on either side of the pro-con execution divide.
The death penalty, besides that constantly raised "morality" thing, is a money thing that picks the pockets of all Americans, regardless of their support for or opposition to execution.

California, for example, spent $4 billion between 1978 and 2010 on its death penalty.
Huge sums of public monies pumped into death penalty prosecutions is money siphoned out of providing needed services like funding public service jobs for the unemployed or funding health care so people don't die from tooth problems.
Yes, tooth problems! A 24-year-old unemployed Cincinnati father died in early September 2011 from a tooth infection because this man without health insurance couldn't afford either to have a wisdom tooth pulled or buy medication to treat his infected tooth.
Much of the framing of death penalty debate revolves around mortality: should a civilized society (as America alleges to be) engage in such an uncivilized practice?
An Exhibit A of the immoral hypocrisy in executing the death penalty is an antic of former California Governor Arnold Schwarzenegger.
During this film star's two-terms as California's Republican governor Schwarzenegger signed death warrants sending folks to the execution chamber.
Schwarzenegger defended his decisions as morally and legally proper even as he lived the arguable immoral lie of marital infidelity: secretly raising the love-child son of a woman who worked in his personal household for twenty-years.
That woman and Schwarzenegger's wife even had sons within days of each other in October 1997 Â- both boys raised around each other without revelation of having a common father.
In December 2005 Schwarzenegger rejected massive requests worldwide to grant clemency to death row inmate Stan "Tookie" Williams, a co-founder of the violent Crips street gang, whose in-prison anti-gang transformation led to many accolades, including Williams' receipt of an award from then President George W. Bush moths before in September 2005...
(Note: You can view every article as one long page if you sign up as an Advocate Member, or higher).