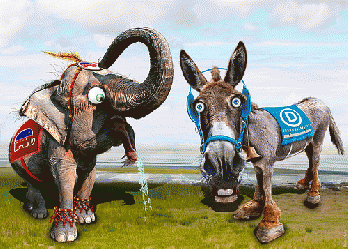 Both parties are hobbled by infighting and incompetence. Only one keeps winning elections.

(

Image

by

DonkeyHotey

)

Details DMCA



It would be wonderful if we could simplify the conversation, debate, or what many call the national narrative by removing labels, end useless name calling, and stop playing into the hands of the masters of the system that uses every method imaginable to divide and thereby conquer we the people. From the corporate media feeding endless propaganda, to the myth of a real two-party system, to an educational system fundamentally designed to indoctrinate the young, and more. Such devices need to be understood for what they are and what they have accomplished in preventing the majority of people from uniting as a people and throwing the bums out of our lives forever.

Who would deny decisions, such as Citizens United, not only makes a joke of the land's highest court while establishing person-hood for corporations, isn't against the will of the people as a whole? Such secret deals as the TPP, TTIP and TISA accomplish nothing less than rule by mega-corporations. This crap should be uniting us against the pending horrors of such deals, not locked in combat over labels, ideology, or any of this us-against-them crap.

At no time in history has it been more clear that, if we don't put aside our differences here and now, all but the very few are going to suffer at the hands of this system in ways never seen before, although akin to the conditions of the last gilded age of robber barons who never went away and now seek to run us down all over again, but on far more permanent scale. Is this what people are arguing to have?

It isn't about the Politicians/Puppets, or any of the employees that serve the system we have endured for so long. It's all about us; if we can unite in a caring common cause for the benefit of each and every person who desires and demands self governance. It isn't difficult to see we do not have such today. Not when lobbyists, corporations, bankers and such are able to write whatever legislation pleases them the most, while we all suffer due to such influences. Can anyone truly deny this is the case?

People talk about solutions to our collective troubles all the time. Which candidate, which party, and this and that, but until our population decides it's had enough and puts aside often petty differences, the only changes we'll see are more and more wealth and power in the hands of the few while they tell you they are not picking your pocket and taking away your ability to remove them from power at the same time. Keep arguing for your limitations and you will get to keep them.

Is it not time to get rid of the illusion that is the two-party system. These two parties are controlled by the Plutocracy/Oligarchy. Until money in politics is ended the people are screwed. Most politicians on the federal level and more and more on the state level are in the pockets of the billionaire/corporate puppet masters. Our elections are not about liberal vs conservative or democrat vs republican; they are about getting our country back for the people. Right wing, left wing.... All the same bird.... Down with rule by the billionaires/plutocracy/oligarchy.....