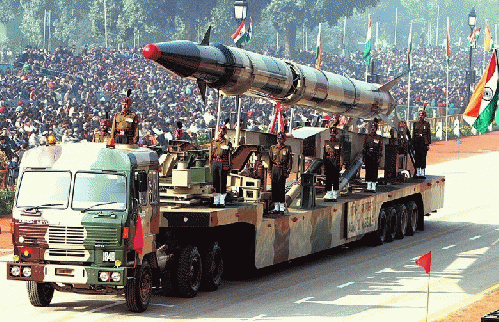 Pakistan and India Nuclear Warheads
(
Image
by
national interest
)
Details
DMCA
Pakistan's nuclear warheads which are estimated to be between 110-130 are aimed at dissuading India from taking military action against it, a US Congressional report says.
Pakistan's nuclear arsenal is widely regarded as designed to dissuade India from taking military action against Pakistan, the report said adding: "but Islamabad's expansion of its nuclear arsenal, development of new types of nuclear weapons, and adoption of a doctrine called "full spectrum deterrence" have led some observers to express concern about an increased risk of nuclear conflict between Pakistan and India, which also continues to expand its nuclear arsenal."
The Congressional report titled "Pakistan's Nuclear Weapons" was released on January 14. It is written by Nonproliferation experts, Paul K. Kerr and Mary Beth Nikitin.
Congressional Research Service (CRS) is the research wing of the US Congress, which prepares periodic reports by eminent experts on a wide range of issues so as to help lawmakers take informed decisions.
"Pakistan has in recent years taken a number of steps to increase international confidence in the security of its nuclear arsenal," said the CRS report.
Moreover, Pakistani and US officials agree that, since 2004 Islamabad has taken a number of steps to improve its nuclear security and to prevent further proliferation of nuclear-related technologies and materials, it said. A number of important initiatives, such as strengthened export control laws, improved personnel security, and international nuclear security cooperation programs, have improved Pakistan's nuclear security, the CRS said.
"However, instability in Pakistan has called the extent and durability of these reforms into question. Some observers fear radical takeover of the Pakistani government or diversion of material or technology by personnel within Pakistan's nuclear complex," the CRS said.
"While US and Pakistani officials continue to express confidence in controls over Pakistan's nuclear weapons, continued instability in the country could impact these safeguards. Furthermore, continued Indian and Pakistani nuclear weapons development could jeopardize strategic stability between the two countries," it concluded.
Chronic political instability in Pakistan and Islamabad's military efforts against the Taliban and al-Qaeda have raised concerns about the security of the country's nuclear weapons, the report said and added that "some observers fear that Pakistan's strategic nuclear assets could be obtained by terrorists or used by elements in the Pakistani government. However, U.S. officials have generally expressed confidence in the security of Pakistan's nuclear weapons."
According to the CRS report: "Islamabad is expanding its nuclear arsenal and developing of new types of nuclear weapons. Special Representative for Afghanistan and Pakistan Ambassador Richard Olson told the House Committee on Foreign Affairs on December 16, 2015, that the United States is "concerned" about "the pace and the scope of the Pakistan's missile program, including its pursuit of nuclear systems." The administration also worries that "a conventional conflict in Southwest Asia could escalate to include nuclear use as well as the increased security challenges that accompany growing stockpiles," he added."
The CRS report pointed out that the United Kingdom's Foreign and Commonwealth Office has argued that "Pakistan's strategic posture, including nuclear, is clearly framed around its perception of the threat from India." Similarly, then-DIA Director Burgess told the Senate Armed Services Committee on March 10, 2011, that the "persistent India-Pakistan rivalry drives Islamabad to develop its nuclear infrastructure, expand nuclear weapon stockpiles ... and seek more advanced nuclear warheads and delivery systems, including cruise missiles." Pakistan has repeatedly described its strategic doctrine as "credible minimum deterrence." Islamabad has pledged no-first-use against non- nuclear-weapon states, but has not ruled out first-use against a nuclear-armed aggressor, such as India.