Reprinted from The Nation
Details of how Flint's water was contaminated, and of how pleas for help were neglected, are leading to calls for inquiries, arrest, resignation.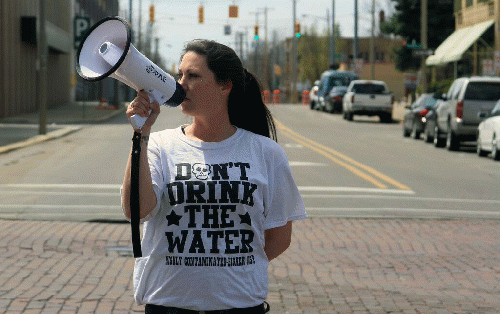 A Flint, Michigan, resident demanding clean water
(
Image
by
(Photo Credit: Eduardo Garcia)
)
Details
DMCA
Of all the destructive and anti-democratic policies of all the Republican governors elected in the 2010 wave election, none have been so destructive and so anti-democratic as Michigan Governor Rick Snyder's use of the power of the state to appoint "emergency managers" who have been empowered to override the will of the voters in Michigan's major cities.
Snyder, a crude and cynical tactician,
refused to treat urban centers fairly
when it came to budgeting and the distribution or state revenues. He then claimed that local elected officials were incapable of managing municipal finances and moved to appoint unelected and unaccountable managers to implement austerity policies. So determined was Snyder to trump the will of the people (and common sense) that,
when Michigan voters rejected the emergency-manager policy
, he continued with a modified version of his authoritarian approach.
The governor wanted to have his say in the municipal affairs of Michigan's cities, and he got it.
Now, however, the governor's combination of power-grab politics and austerity economics has gone horribly awry for the people of the Flint, one of the cities that was placed under emergency management (from 2011 to 2015) and then under the oversight of a so-called Receivership Transition Advisory Board. The crisis has led to an intervention by President Obama and high-profile calls for official inquiries, criminal investigations, and the governor's resignation.
"There are no excuses. The governor long ago knew about the lead in Flint's water. He did nothing. As a result, hundreds of children were poisoned. Thousands may have been exposed to potential brain damage from lead. Gov. Snyder should resign," Vermont Senator Bernie Sanders said on Saturday, while former secretary of state Hillary Clinton closed Sunday night's Democratic debate by ripping Snyder as a governor who "acted as though he didn't really care."
(Note: You can view every article as one long page if you sign up as an Advocate Member, or higher).