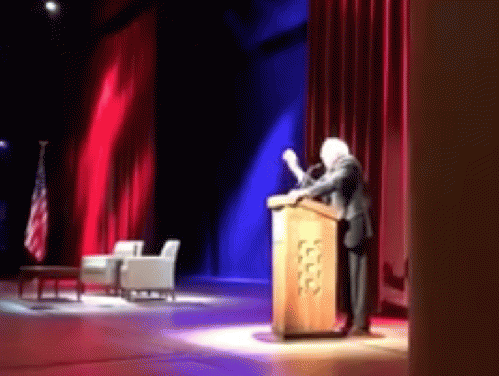 Bernie Sanders Speech to George Washington University

(

Image

by

George Washington University

)

Details DMCA

Part One of Bernie Sanders' speech to George Washington University:


Part Two of Bernie Sanders speech to George Washington University:


(Note: New version of video added by Meryl Ann Butler, 11.21.16 10:01 am Eastern.)

Bernie Sanders' post-primary movement called Our Revolution got a big boost from Senator Sanders speech at George Washington University, posted live last night on Facebook, despite a distant single-shot video from stage left that seemed a bit of an afterthought (the audio is good).
People responded to the invitation sent out just a day earlier in increasing droves, peaking at just under 29,000 views. Seven hours later the viewership has multiplied more than 10-fold to just under 385K Views according to Facebook.



Sanders mixed parts of his signature stump speeches with a renewed list of promises to hold president-elect Trump accountable for his campaign promises to support the working man or woman. Trump ran as a populist candidate, in some ways similar to Bernie Sanders. Both candidates opposed the TPP. Both candidates supported a repatriation of wealth stored overseas, though, crucially, Sanders wanted it returned and taxed, while Trump is proposing to lower the corporate tax rate to 10% to encourage repatriation. On tax policy, the two candidates part ways dramatically, with Sanders demanding that the .1%, which he says now own more wealth than the bottom 90% of Americans, "pay their fair share."
Sanders went on to challenge Trump to "study a little science" when it comes to climate change, which, as Sanders pointed out, Trump oddly considers part of a Chinese plot. This generated one of many vigorous rounds of applause from the enthusiastic crowd.

You can view it here on Facebook, but the Youtube version is a better angle and includes a Q&A session in part two.

A Sanders pre-speech video recorded on November 15 addressing his opposition to the North Dakota Pipeline was also posted on the Our Revolution Facebook home page with this intro:
Bernie spoke to a massive crowd in front of the White House tonight as part of the National Day of Action to stop the Dakota Access pipeline.

President Obama, we are calling on you to respect Native American rights, protect our water and stop the Dakota Access pipeline any way you can.

And to President-elect Trump: We are not going silently into the night. We are going to educate, we are going to mobilize, and if you try to put the fossil fuel industry's short-term profits ahead of the future of our planet, we will be your worst nightmare.
That video has a million views already.
Comments on the Facebook page wish Sanders a long and healthy life so that he can run for president in 2020, a prospect which Sanders has not ruled out in post-election interviews. Whatever the next four years holds, clearly Senator Sanders is far from done. He has just begun to fight and will not go, as he put it "silently into the night."
(Note: You can view every article as one long page if you sign up as an Advocate Member, or higher).